PRESIDENT OF AGBU BERGE SETRAKIAN SAYS
THAT THE MELKONIAN WAS NEVER A CRISIS
For Civilnet's complete interview click here:
http://civilnet.am/2013/09/17/demystifying-the-armenian-diaspora/
End of Empire: The glory of the Ottomans - and the devastation wreaked since they lost power
For centuries, the Ottoman Empire peaceably ruled much of the civilised world. Now, its former lands are up in flames. As the BBC launches a major new documentary series, Peter Popham asks: where did it all go wrong?
Click here for the article: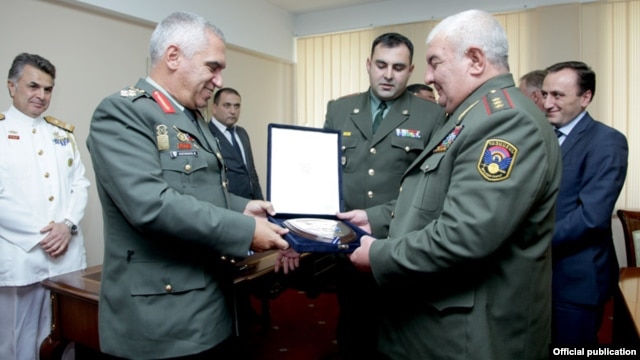 ArmenPress - The Armenian and Greek militaries pledged on Wednesday to carry on with what Greece's top Army General described as "strategic" bilateral cooperation during a visit to Yerevan.
"The foundations of that cooperation are historical as our two nations have long had close relations," General Mikhail Kostarakos, the Chief of the Hellenic National Defense General Staff, said after talks with his Armenian opposite number, General Yuri Khachaturov.
The two Generals addressed the press after presiding over the signing of a plan of joint activities by Armenia's and Greece's armed forces for next year. They gave few details of that document at the news conference.
The Armenian Defense Ministry said in a statement that the two sides plan to hold more than a dozen joint events in 2014. Those include training courses, exercises and other forms of "exchange of experience," it said.
Kostarakos met with President Serzh Sargsyan earlier in the day. Sargsyan was cited by his press office as praising "close cooperation in the military sphere" existing between the two countries.
Hundreds of Armenian military personnel have been trained at Greek military academies over the past two decades. NATO member Greece has also helped to train and equip an Armenian army brigade that contributes troops to ongoing NATO-led missions in Afghanistan and Kosovo.
► Golden Autumn Concert with the participation of the most famous performing Stars and Singers of Armenia.
► Excursion at the Opera Building, meeting with management, actors and dancers followed by Opera or Ballet performance.
► Theatre performance of your choice.
► Dance Performance by the National State Dance Ensemble.
► Get-together with members of Parliament for a briefing and a tour of the National Assembly building.
► Get-together with representatives of the Armenian armed forces and an on-site visit (no photos allowed).
► Visit to the Cognac factory plant with cognac tasting.
► A day trip of short destinations around Yerevan district, using the Armenian underground (METRO).
► Shooting and target practice at 10/10 Target Practice Centre.
► Five-course meal with Armenian band and Duduk soloists.
► A day at the Armenian ZOO.
► Two free days for relaxation and optional extras.
Optional Extras while in Armenia:
► Day trip with mini bus to Jermug resort, including lunch.
► Helicopter trip to remote destinations and monasteries.
► Football match of the Armenian Football Championship.
► Duck-Hunting at Nakhichevan border at an 18-lake 1,500 acre privately owned duck migration reserve.
► Horse riding in Dilijan forests.
The package includes:
► Transfer from and to Yerevan International Airport.
► Bed and breakfast at Tora Luxury Hotel. www.torapalace.com
► Transportation tickets.
► Entrance tickets to theatres, performances and guide services.
► Transportation to and from venues noted above.
Not included:
► Visa on arrival only to non-Armenian citizens
► Price does not include Air tickets, as ticket prices of participants from North & South America, Europe and the Middle East vary. If you desire, we can help you with air tickets as well.
ALL-INCLUSIVE price: 680 euros
COMBAT COMMONWEALTH 2013
Armenia participated in the Combat Commonwealth 2013 exercises in the Astrakhan Region. In the picture two MiG-29 fighter jets landing at the Privolzhsky airfield. Military units from Russia, Belarus, Armenia, Tajikistan and Kyrgyzstan participated in the five-day military exercises.
Cyprus update from Omphalos tis Gis newsletter:
This opportunity must not be lost, says Davutoglu; Varosha part of overall deal
Turkey views Varosha as part of the overall solution of the Cyprus problem, Turkey's Foreign Minister, Ahmet Davutoglu, said speaking at the UN yesterday.
Greek Cypriot daily Politis reports that, as ways to build confidence, he counterproposed the removal of travel restrictions on the ports and airports in the north of Cyprus, in exchange for allowing access to Greek Cypriot ships and airplanes arriving at Turkish ports and airports.
He acknowledged that there was a thawing of relations between Turkey and the Republic of Cyprus, saying that Turkey has worked very hard in order to create this climate.
He said the Anan plan was a lost opportunity, but Anastasiades had voted yes in the referendum and now he is in power.
"Over these last 4-5 years the negotiations have been intense, but brought no result and, with respect to the efforts of the UN and Mr Downer, we had no deadline so no tangible results", he added.
He said that during the last 2-3 weeks, Alexander Downer had visited him and later he met with Mr Venizelos in Ankara and in New York. "We had a very constructive meeting and we decided to make a proposal to the two sides in Cyprus to allow mutual contacts in Ankara and Athens. Thankfully, both sides accepted".
He said this was a very important agreement and a significant step towards restoring confidence, both psychologically and procedurally, as was reflected in both Anastasiades' and Gul's speeches before the UN General Assembly.
He said this positive momentum must be properly exploited. Too many opportunities have been lost in the past. This one must not. We are ready for a comprehensive solution and the contribution of Greece and Turkey in the procedure, as guarantor states, is important. I hope this momentum brings results".
As regards Anastasiades' proposal regarding Varosha, he said he considers the town part of the comprehensive settlement. He said Turkey will open transportation for Greek Cypriots at the ports and airports, and expects the Turkish Cypriot airport to allow arrivals from all over the world as well.
"If all these things occur, then great progress will have been achieved. Everything else can be discussed afterwards, including Varosha", he concluded.
SOLUTION MUST NOT BE DELAYED,
ANASTASIADES TELLS THE UN
Safeguarding peace and stability in Cyprus by working toward a settlement of the decades-long dispute, is his government's primary objective, President Nicos Anastasiades told world leaders yesterday, the Cyprus Mail reports.
"A few months ago my country received unprecedented international attention due to the economic crisis," Anastasiades said in an address to the UN General Assembly in New York.
"My political vision is for Cyprus to receive yet again international attention, but this time for all the right reasons," he said. "And this points to the end of the long-standing anachronistic division of my country."
He added: "It is my firm belief that the current status quo is unacceptable and its prolongation would have further negative consequences for the Greek and Turkish Cypriots. Thus, a comprehensive settlement is not only desirable, but should not be further delayed," Anastasiades noted.
Giving renewed impetus to stalled reunification efforts requires bold action, "game changers," creating a win-win situation for both communities on the island but also for all interested stakeholders, the President said.
One such bold step, he said, is his own package of proposals which includes the return of Famagusta to its lawful inhabitants under UN auspices in line with UN Security Council Resolution 550.
In addition to boosting economic activity and creating jobs in both communities, Famagusta's infrastructural restoration would re-invigorate hopes for a solution.
"Greek and Turkish Cypriots will come closer to the realisation of the benefits of sharing together a prosperous future, just as we have done so in the past," he said.
Referring to Turkish President Abdullah Gul as "my friend," Anastasiades said Greek Cypriots' rejection of a UN peace blueprint in a 2004 referendum does not absolve Ankara from its obligation in seeking a just settlement on Cyprus.
Nonetheless, Anastasiades welcomed Turkey's "positive response" to a recent proposal of holding meetings with the chief Greek Cypriot negotiator.
Anastasiades stressed that before new talks can begin in earnest, the two sides must agree some ground rules and objectives, the key being "the evolving transformation of the Republic of Cyprus in a bi-zonal, bi-communal federal state, with a single international personality, single sovereignty and single citizenship."
Although the European Union should play a part in the negotiating process, its role would "merely supplement and complement the UN Good Offices Mission."
Referring to the discovery of hydrocarbons in the Levant basin, Anastasiades said energy should not be a source of conflict but rather a catalyst for conflict resolution.
Anastasiades also met US Vice President Joe Biden in Washington, DC.
PEACE FOR GAS?
Phileleftheros and SigmaLive report that an article in German newspaper Die Zeit says that the value of Cyprus' natural gas deposits comes to between 30 and 100 billion euros, enough to cover the island's public debt and bring prosperity to the country.
It adds, however, that Cyprus' insistence on building a massive liquification terminal and transporting the gas on ships is not logical in view of the fact that the gas could be transported by pipeline through Turkey, which is only 70 km away. This plan makes no sense financially since it would cost around 15 billion euros, practically its entire debt, while it would also lose five years in construction time.
The paper refers to the latest developments in the Cyprus problem and quotes a UN official as saying "The solution could be simple. Peace in return for gas". The official goes on to express the fear that if Cyprus were to make a unilateral move towards exploiting the gas, Turkey could very well object.
Moreover, the paper says that the EU should act towards finding solutions. It says the EU has more power to influence things on the island now than in the past since Cyprus depends on the Europeans for money.
Picture of the week: Euro Parliamentarian of the AKEL communist Party of Cyprus Takis Hadjigeorgiou with Rachel Dink in Brussels
Homenetmen's Bedig Kasparian of
Bourj Hammoud conquers Everest
MEMBER OF GIBRAHAY COMMUNITY HAGOP DIKRANIAN ELECTED CHAIRMAN OF THE HISTORIC SOCIAL DEMOCRATIC HUNCHAKIAN PARTY
Gibrahayer e-magazine - Nicosia - The Social Democrat Hunchakian Party (SDHP) concluded its 20th General Congress on September 14 in Armenia. Delegates representing 17 countries around the world had closed door meetings and addressed a number of issues of national and political importance to the party.
During the final day of the congress, SDHP have elected new central committee. Furthermore, Armenian Cypriot Hagop Dikranian was elected chairman who will lead the party for the next 4 years.
Paying tribute to all those who lost their lives defending the Armenian nation, the newly elected SDHP Central Committee's first official function was to lay a wreath at the Yeraplur memorial.
After Assadour Devledian who is the Vice-Chairman of the Central Board of the Ramgavar Party, Dikranian becomes the second Gibrahay, holding a top post in an Armenian political party.

GLAMOROUS HELICOPTER TOURS ACROSS ARMENIA & ARTSAKH by PRANA TOURS
A unique experience across the Armenian skies by helicopter, to Artsakh, and to remote destinations and Monasteries.
VOYAGE 1: ARAGADZ – Khash Brunch, Hiking (optional but free), Visit to Alikhanyan Observatory, Kebab lunch and Rest House siesta on the four-hilled mountain lake - $ 270
VOYAGE 2: ARTSAKH (Nagorno-Karabakh Republic) Yerevan - Tatev Monastery Syunik - Shushi (Artsakh), Gandzasar (Artsakh) - Dadivank - Yerevan $ 570 (includes Artsakh Republic visa and lunch/picnic)
VOYAGE 3: NORTH ARMENIA & LAKE SEVAN - Yerevan - Ambert Castle – Haghbad, Sanahin and Odzoun Monastery - Lunch and swimming (optional) in Lake Sevan - Yerevan - $ 470.

Trips conducted by experienced and licensed Armenian veteran pilots.
Departures: Beginning from 30 July.
Tailor-made Charter trips to destinations of your choice can also be organised.
For further information:
Armenia Tel: 010271666 - 055250013
Email: pranatour@mail.ru
Web: www.pranatour.am
Funerals:
Hasmig Der Avedissian Hawley passed away on Friday 20 September.
Hasmig was a long time member of the Sourp Asdvadzadzin choir, Hamazkayin's Dance Ensemble and a member of AYMA committee.
She will be greatly missed by all members of our community and everyone that had the pleasure and privilege to know her.
The funeral took place on Wednesday 25 September at 3:00 pm at the Sourp Asdvadzadzin Church in Nicosia.
The Funeral Service for a much loved vibrant member of our community Knar Keoshgerian (right), took place on 21 September 2013, at 1.30pm at Sourp Asdvadzadzin Armenian Church, Acropolis - Nicosia.
Our deepest condolences to both families.

Gibrahayer Calendar
- Saturday 12 October at 8:30 pm - Lebanese Night at Homenetmen AYMA. Entrance 15 euros. Sign up with Marine Terzian on 99680944. Kids under 12 FREE.
- Sunday 3 November at 1:00 pm - Fund-raising Autumn Luncheon organised by Armenian Relief Society (HOM) Sosse Chapter at Homemetmen AYMA. Details to follow.
- Saturday 9 November at 7:00 pm - Armenian MP's Vartkes Mahdessian's Office is organising a Cultural evening with the participation of singers from Armenia as well as Hamazkayin's SIPAN Dance Ensemble. (see leaflet below). Tickets 10 euros which you can acquire by calling 22454540.
- Wednesday 27 November at 7:30 pm - 25th anniversary of HOM Sosse Chapter at the Presidential Palace Hall with a rich cultural program, under the Patronage of the First Lady Andri Anastassiades.
- Sunday 8 December - Armenian Relief Society (HOM) Cyprus Sosse Chapter's Christmas Bazaar. Details to follow.
- Saturday 4 January 2014 at 9:00 pm - Christmas Ball organised by Homenetmen AYMA. Details to follow.

HAMAZKAYIN NEWSLETTER
Nicosia 12.9.2013
Dear members,
Hamazkayin Cultural and Educational Society of Cyprus, Oshagan chapter newly elected board welcomes you to the new active season 2013-2014.
Following the suggestions of the members during Hamazkayin's 14th AGM for more transparency, we will regularly keep you informed of Hamazkayin activities through Artsakank. We would like to thank the Artsakank editorial staff for their gracious cooperation.
The board held two meetings so far and prepared a footprint of the coming activities as follows:
A-HAMAZKAYIN "SIPAN" DANCE ENSEMBLE - Artistic director and choreographer Mr. Bedros Gharibian will be arriving to Cyprus on September 18, 2013 and will start training Sipan Dance Ensemble on September 19. The board has been in constant touch with Mr. Gharibian during the summer to ensure that all is ready for the start of the new season.
To this effect, a sub-committee was created to take care of all Sipan related issues. The members of the sub-committee are:
Arto Tavitian – Harout Tahmazian – Adour Karagullyian.
The sub-committee members will need the support of all Hamazkayin members and friends and will seek their cooperation whenever necessary. We are sure that our members will continue to bring their generous support as in previous years to make sure that Sipan has another successful performance.
Sipan will also be participating in the following festivals:
-8th Mediterranean Folkloric Dance Festival in Yeri on 13 September at 8.30 pm and Larnaca on 19 September at 8.30 pm. Sipan will also take part in the parade in Larnaca at 8pm.
In the absence of Mr. Gharibian, Garine Gostanian is in charge of training the dancers after the summer break.
-29th Ayia Napa International Festival on 27 September at 10pm.
B-OTHER CULTURAL ACTIVITIES: We would like to inform you that a cultural sub-committee has been established to take care of all cultural matters.
The members are: Talar Torossian – Sarin Gurunlian – Shoushig Bakalian.
The sub-committee works in close cooperation with the board and will delegate responsibilities to all members and friends of Hamazkayin as necessary. Your suggestions and ideas are always welcome.
1-Timag Theatre group:
This year's theatre activities will include

a) Cafe-Theatre created and directed by Harout Tahmazian on December 4 2013. Details to follow
b) A theatrical work created and directed by Natasha Tavoukdjian in the first quarter of 2014. Details to follow.

2-Literary evenings: Encouraged by last season's success, the board decided to continue the literary evenings with the same format once a month under the direction of Arto Tavitian. The entrance fee has been increased to 7 euros. The first series of the literary evenings will take place on Wednesday September 25th at Homenetmen - AYMA.
Subject: Writer-satirist Hagop Baronian. Small sketches of his most famous works will be presented during the evening.

3- Photo-Exhibition. Work is underway for a photo-exhibition of the Pilgrimage to Ancestral Lands. The work is being undertaken by Talar Torossian with the help of Hapet Touloumdjian. Details to follow.
We hope that we have been able to give you a clear picture of the board's activities so far and we are sure, that with your support, we will have an even more successful active season.
Wishing you all a prosperous year, we remain,
Board of Hamazkayin Cultural and Educational Society of Cyprus "Oshagan" chapter.
DAVID NALBANDIAN
TO END TENNIS CAREER

Hetq - Argentina's 2002 Wimbledon finalist David Nalbandian, formerly of Homenetmen Argentina, announced on Tuesday that he will quit tennis next month citing physical problems that have sidelined him for most of the year.
"It's a tough day to (have to) announce my retirement today," said Nalbandian, winner of 11 ATP Tour titles including the season-ending ATP Championship in Shanghai in 2005.
The former world number three, who had shoulder surgery in May, said he would quit tennis after playing an exhibition match against Spanish world number two Rafael Nadal in November.
Nalbandian has repeatedly mentioned in media interviews and been proud of his Armenian origin, saying that he has always received huge support from Armenians around the world at every tournament he played.
At the peak of his career in 2008 Nalbandian visited Armenia where he played an exhibition match against the nation's number one player Harutyun Sofyan and give a master class to local junior players.
APPRAISAL REVEALS THAT CYPRUS OFFSHORE DRILL HOLDS 3.6 TRILLION CUBIC FEET OF NATURAL GAS
A Cypriot offshore field holds between 3.6 trillion cubic feet (Tcf) and 6 Tcf of natural gas, US-based oil company Noble Energy said on Thursday, announcing the results of an appraisal drill.
"Results from the Cyprus A-2 well have confirmed substantial recoverable natural gas resources and high reservoir deliverability," said Keith Elliott, Noble Energy's Senior Vice President, Eastern Mediterranean. "While the A-2 location has successfully defined the northern area of the discovery, we anticipate additional appraisal activities are necessary to further refine the ultimate recoverable resources and optimize field development planning."
Noble said evaluation of drilling data, wireline logs and reservoir performance information has resulted in an updated estimate of gross resources of the field ranging from 3.6 trillion Tcf of natural gas to 6 Tcf, with a mean of approximately 5 Tcf.
Exploratory drilling carried in 2011 showed "an estimated gross resource range of 5 to 8 trillion cubic feet (Tcf), with a gross mean of 7 Tcf."
Noble Energy operates Block 12 offshore Cyprus with a 70 per cent working interest. Delek Drilling and Avner Oil Exploration each have 15% working interest.
CYPRUS BEAUTY CHRISTIE AGAPIOU
Until we meet again Ashot and Aida Taslakian
https://www.facebook.com/media/set/?set=a.597552856954359.1073741913.185812434795072&type=1
Click the above link for 66 images of the farewell dinner for Ashot and Aida Taslakian
EDMOND AYNEDJIAN WINS
FIRST SINGLES TITLE
Tennis Zone's press release - Tennis Zone's Edmond Aynedjian won the under 16 Boys Singles Championship, his first Pancyprian title.
In the finals he defeated Alexander Abraham John 6-2, 3-6, 6-4.
He also made it in the finals of the under 18 category, defeating the number eight and number four seeds without dropping a set.
In the semi finals of the under 18 category, he overcame the number 1 seed Andreas Stylianou 6-3, 7-5.
He eventually ran out of steam, losing the finals to the number three seed Charilaos Iacovides 2-6, 5-7.

TENNIS ZONE'S SECOND YEAR
Press release - The Tennis Zone Academy opened its doors on Monday 9 September 2013 for the second year running. This year the crew of coaches comprises of Petr Zika, Nadia Bratanova and Stefanos Charalambous, who will be in charge of groups and classes for adults and children, while our Elite Team will continue its daily practices from 3:00 - 6:00 pm under the experienced guidance of our Head Coach Akis Asproftas. Sessions for the Elite team began three days earlier, on Friday 6 September.
Having completed a four-week trip to international tournaments abroad in August, the team will travel to at least two more ITF tournaments abroad between now and December, as well as participate in all tournaments in Cyprus.
Two new groups will also be introduced for parents of playing children and Physical Education teachers of elementary and secondary schools as well as universities.
Stefanos Charalambous will also be in charge of the classes for the students of the Junior School and Senior School, which will now be taught on a daily basis.
The Academy has decided to extend its cooperation with Mavros Ltd and Wilson rackets and would like to thank its Director Othon Kyriakides for his continued support. We would also like to thank Photos Photiades Ltd and Prana Tours (Armenia) for their generous assistance during our team's stay in Yerevan in order to take part in four tournaments in August, as well as fitness trainer Panayiotis Papadopoulos of Olympus Gym and Costas Tsouloupas, for his help through sessions on mental toughness.
Tennis Zone's Facebook Page at www.facebook.com/cyprustenniszone now has more than 400 Fans, while the Tennis Zone website will go live in October 2013 with all the activity of our first year, a video and image gallery, games, info and tennis tutorials.
Subscribe to our newsletter and stay up-to-date with our activities by sending an email to cyprustenniszone@gmail.com.
Finally, we would like to wish everyone involved in the promotion of tennis in Cyprus, all the best for a successful year and good luck to all players involved in international tournaments.
For more information please contact Simon Aynedjian on 99437073 or on simon@tenniszone.eu

ss
ss
ss