IRAN WARNS THE WEST AGAINST
MILITARY INTERVENTION IN SYRIA
The Guardian 28 August - Iran has warned that foreign military intervention in Syria will result in a conflict that would engulf the region.
The threatening rhetoric from Tehran came in response to a statement by the secretary of state, John Kerry, that the US would respond to the "undeniable" use of chemical weapons in Syria.
In the strongest signal yet that the US intends to take military action against the Assad regime, Kerry said President Bashar al-Assad's forces had committed a "moral obscenity" against his own people.
"Make no mistake," Kerry said. "President Obama believes there must be accountability for those who would use the world's most heinous weapon against the world's most vulnerable people. Nothing today is more serious, and nothing is receiving more serious scrutiny".
Iranian Foreign Ministry spokesman, Abbas Araghchi, indicated it was equally resolved to defend Assad.
"We want to strongly warn against any military attack in Syria. There will definitely be perilous consequences for the region," Araghchi told a news conference. "These complications and consequences will not be restricted to Syria. It will engulf the whole region."
Shi'ite Iran is Syria's closest ally and has accused an alliance of militant Sunni Islamists, Israel and western powers of trying to use the conflict to take over the region.
DOES BARACK OBAMA KNOW HE'S
FIGHTING ON AL-QAEDA'S SIDE?
The Guardian - Robert Fisk - 28 August - If Barack Obama decides to attack the Syrian regime, he has ensured – for the very first time in history – that the United States will be on the same side as al-Qaeda.
Quite an alliance! Was it not the Three Musketeers who shouted "All for one and one for all" each time they sought combat? This really should be the new battle cry if – or when – the statesmen of the Western world go to war against Bashar al-Assad.
The men who destroyed so many thousands on 9/11 will then be fighting alongside the very nation whose innocents they so cruelly murdered almost exactly 12 years ago. Quite an achievement for Obama, Cameron, Hollande and the rest of the miniature warlords.
This, of course, will not be trumpeted by the Pentagon or the White House – nor, I suppose, by al-Qaeda – though they are both trying to destroy Bashar. So are the Nusra front, one of al-Qaeda's affiliates. But it does raise some interesting possibilities.
Maybe the Americans should ask al-Qaeda for intelligence help – after all, this is the group with "boots on the ground", something the Americans have no interest in doing. And maybe al-Qaeda could offer some target information facilities to the country which usually claims that the supporters of al-Qaeda, rather than the Syrians, are the most wanted men in the world.
There will be some ironies, of course.
Click here for the complete irony.
Armenians in Syria: update from Naira Bulghadarian
29 August: Thousands of ethnic Armenians remaining in Syria braced themselves for a further escalation of the bloody conflict in their country on Wednesday amid growing talk of U.S.-led military strikes against President Bashar al-Assad's regime.
Speaking to RFE/RL's Armenian service (Azatutyun.am) by phone, several Syrian Armenians trapped in Aleppo said they are already preparing to use the basements of their homes as shelters if the United States and other Western powers act on their threats of military action.
The West blames the Syrian government for the August 21 chemical weapons attack near Damascus that left scores of people dead. The government has denied those allegations, receiving support from Russia and China.
"The Armenian community is certainly worried," said Zarmig Boghikian, an Aleppo woman working at a local Armenian magazine, "Gandzasar." "We are neutral but concerned because those strikes will target the whole country. Leaders of the Armenian community are telling people to be cautious and don't leave their homes too often for the next few days."
"Many people are thinking about fleeing but that's impossible to do in Aleppo now because the roads are closed," added Boghigian.
Zhirayr Reisian, the spokesman for the local Diocese of the Armenian Apostolic Church, insisted that the Syrian Armenian community is not starting to panic. "After all, we are residents of this city and country, we are part of this country and its people," he said. "So whatever happens to the Syrian people can also happen to us."
The Diocese will do its best to help Armenians affected by possible strikes, added Reisian.
There were an estimated 80,000 ethnic Armenians in Syria before the outbreak of the conflict there more than two years ago. About 10,000 of them have since taken refuge in Armenia, according to the authorities in Yerevan. An even larger number of Syrian Armenians is thought to have fled to neighboring Lebanon.
HOW TURKEY WENT FROM
"ZERO PROBLEMS" TO "ZERO FRIENDS"
AND LOST ITS LEVERAGE EVERYWHERE
AUGUST 22, 2013 - (Foreign Policy) - Not so long ago, Turkey seemed to have found the elusive formula for foreign policy success. Its newly-adopted philosophy, "zero problems with neighbors," won praise both at home and abroad as Ankara reengaged with the Middle East following a half century of estrangement. It expanded business and trade links with Arab states, as well as Iran, lifted visa restrictions with neighboring countries, and even helped mediate some of the region's toughest disputes, brokering talks between Syria and Israel, Fatah and Hamas, and Pakistan and Afghanistan.
Just a few years later and in the wake of the Arab Spring and its aftermath, that once-reliable formula is starting to look like alchemy. Prime Minister Recep Tayyip Erdogan has now burned his bridges with the military regime in Egypt, all the while squabbling with Gulf monarchies for refusing to stand by deposed Egyptian President Mohamed Morsy, and starting a war of words with Israel for having a hand in the coup that removed Morsy from power.

For a fleeting moment, Egypt was the centerpiece of Turkey's foreign policy in the Arab world. When Erdogan visited Cairo in September 2011, after the revolution that toppled Hosni Mubarak, he was feted as a champion for being the first major world leader to call on him to step down. That has now all changed: Turkey and Egypt pulled their ambassadors from each country amidst the dispute, and Erdogan publicly slammed the new government in Cairo. "Either Bashar [al-Assad] or [Egyptian army chief Abdel Fattah al-Sisi], there is no difference between them," he said last week. "I am saying that state terrorism is currently underway in Egypt."
This week, Erdogan dragged Israel into the dispute, saying that Israel was "behind" the coup in Cairo. The evidence for this perfidy, his office would later confirm, was a 2011 video of then Israeli Foreign Minister Tzipi Livni and French philosopher Bernard-Henri Levy discussing the Arab Spring.
Former Israeli Foreign Minister Avigdor Lieberman shot back at Erdogan on Wednesday, saying that "everyone who hears [Erdogan's] hateful words and incitement understands beyond a doubt that he follows in the footsteps of Goebbels."
Such disputes have left Turkish foreign policy watchers wondering if Erdogan's bombastic approach is undermining his effectiveness. "Turkey did the right thing" by deploring the Egyptian coup, a former high-ranking Turkish diplomat told me, but found itself "on the wrong side of the international community."
Ankara should have thrown its weight around well before the Muslim Brotherhood was ousted from power, the diplomat added. "Turkey put too much emphasis on the success story of democracy in Egypt and did not see properly the wrong things that were being done by the Morsy regime."
The truth of the matter is that it was always only a matter of time before Turkey's heralded "zero problems" policy foundered. Having zero problems meant keeping your nose out of other countries' domestic affairs, and even cozying up to regional strongmen. That was possible so long as the regional status quo held: Turkey kept mum on post-election violence in Iran in 2009, for instance, and nurtured an alliance with Syria's Assad before the bloody revolt in that country. And in Libya, Erdogan had been only too happy to ignore Muammar al-Qaddafi's dismal human rights record, if that was the price to pay for Turkish businessmen to ink construction deals with his regime.
By blowing the regional status quo into oblivion, the Arab Spring forced Turkey out of this policy of non-interference. Ankara has struggled with the notion that it could not bend the region to its will: In Libya, before it ended up helping unseat Qaddafi, Turkey argued that the West had no business intervening against him. In Syria, it has burned its bridges completely with Assad, embroiling itself in a conflict that shows sign of ending. And in Egypt, of course, Erdogan is setting Turkey on a collision course with the most populous state in the Arab world.

The extent to which Turkey has since ditched its softly-softly approach to the region has been surprising. One of the commandments of "zero problems" was what Foreign Minister Ahmet Davutoglu referred to as "equidistance" -- that is, the refusal to take sides in regional disputes. This was always something of a myth, particularly when it came to the Israeli-Palestine dispute, where the government seldom missed a chance to bolster its regional and Islamic credentials by slighting the Israelis. But in the wake of Arab Spring, equidistance appears to have gone into the gutter.
It's not only in Egypt where Turkey is now seen as a partisan actor, rather than a neutral problem-solver. In Iraq, it has openly defied Prime Minister Nouri al-Maliki's government, accusing it of fomenting sectarian strife and going behind its back to negotiate oil deals with the Kurdish Regional Government, which administers the country's north. In Syria, it has lent unqualified support to the anti-regime rebels, letting them operate freely on its soil, turning a blind eye to their atrocities, and reportedly criticizing the United States for branding the al Qaeda-linked Jabhat al-Nusra a terrorist group.
The former Turkish diplomat said that Ankara was right to support the demise of President Bashar al-Assad's regime, but deplored the ham-fisted way that it went about it. "Turkey was right to side with the people against the dictator, but it could have stopped there," he said. "By burning all bridges with the regime, Turkey lost its leverage with Assad." And when the international community, wary as the rebels' ranks swelled with jihadists, shied away from lending further support, "Turkey, to use a football term, found itself offside."
Erdogan is struggling with a new array of foreign policy challenges in other parts of the world, too. Turkey's image in the West took a beating this summer with the protests in Gezi Park. Erdogan's decision to put down the demonstrations with riot police, tear gas and water cannons undermined his relationship with the European Union: In late June, in the midst of the post-Gezi crackdown, Brussels decided to postpone a new round of accession talks with Ankara until October. Erdogan himself, meanwhile, has come under scathing criticism in the American press.
Turkey has done virtually nothing to undo the damage. Instead, officials have accused Western countries of orchestrating the protests and various "dark forces" -- including what Erdogan cryptically calls the international "interest rate lobby" -- of bankrolling them. The Prime Minister's new top advisor, Yigit Bulut, has no qualms about calling the European Union "a loser headed for a wholesale collapse" while Egemen Bagis, the very Minister responsible for the accession talks, quipped, "If we have to, we could tell them, 'Get lost'."
While Turkey's foreign policy struggles in the Middle East may have been inevitable, its isolation elsewhere seems self-inflicted. Today, the country risks returning to the mindset of the 1990s, when tensions abounded with Arab and European countries, conspiracy theories poisoned the political debate, and Turks -- convinced they were a country under siege -- repeated faithfully, "The Turk has no friend but the Turk." Erdogan, it seems, has taken his country from "zero problems" to international headaches as far as the eye can see.
GUL WISHES THAT TURKIC SUMMIT
IS ONE DAY HELD IN KARABAKH
GABALA, Azerbaijan - Turkish President Abdullah Gul said Friday that he wishes one day the summit of the Cooperation Council of Turkic-Speaking States would be held in Nagorno-Karabakh, reported the APA news agency.
"I wish the summit of the Cooperation Council of Turkic-Speaking States to be held in Nagorno-Karabakh in future," said Gul who was addressing the summit currently taking place in the northern Azeri city.
Gul said that Turkey will make every effort to resolve the Nagorno-Karabakh conflict, adding that Turkey has always supported Azerbaijan on this issue and will continue to do so in the future.
"One of the main problems of the Turkic world is the Nagorno-Karabakh conflict. Occupation of 20 per cent of Azerbaijani territory is unacceptable. Therefore, the Cooperation Council of Turkic-Speaking States supports an early resolution of this conflict," Gul said, according to the Trend news agency.
The summit, being attended by the President of Azerbaijan Ilham Aliyev, President of Turkey Abdullah Gul, President of Kyrgyzstan Almazbek Atambayev and Kazakh President Nursultan Nazarbayev, is the third of its kind to be held in recent years.
At the conclusion of the summit, participants issued a declaration pledging an end to the Karabakh conflict.
In the joint declaration the parties reiterated the importance they attach to the peaceful settlement of the Armenia-Azerbaijan Nagorno-Karabakh conflict, which is one of the main obstacles to lasting stability and regional cooperation on the basis of sovereignty, territorial integrity and inviolability of borders of Azerbaijan.
The parties emphasized the aim at strengthening political and economic security of the States in accordance with the principles of sovereignty, territorial integrity and inviolability of borders, non-interference in internal affairs.
AZERBAIJAN PLANS TO SPEND ANOTHER THREE BILLION ON ARMS FROM S. KOREA
27 August - Gibrahayer e-magazine - Azerbaijan wants to purchase three billion dollars worth of modern weapons from South Korea.
Russian media outlets report that Baku's interest in acquiring South Korean weapons and equipment was made during a recent visit of the delegation to the Parliament of South Korea.
The list of weapons that the Azerbaijani authorities would like to purchase are two submarines, destroyers, transport ships, T-50 supersonic trainer aircrafts (picture above), state of the art K-9 self-propelled 155 mm caliber guns, helicopters and drones.
South Korean media writes that Azerbaijan wants these weapons in an arms race with Armenia over their territorial dispute over Nagorno-Karabakh, now under Armenian control.
REMEMBERING THE PEOPLE
WHO CHANGED OUR LIVES
A VOW FOR MHER,
A VOW FOR ARMENIA
Click for the news report: http://www.youtube.com/watch?v=ylcP4kLPBOs#t=79
NEW RECORD OF VISITORS
TO AGHTAMAR ISLAND
Akhtamar Island in Turkey registered a record number of tourists in Jan.-July 2013.
The Turkish Ministry of Culture and Tourism said 21,388 tourists visited the island during that period.
The major flow of tourists falls on the second Sunday of September when a liturgy is held at Sourp Khach Armenian church.
The first ceremony after a 95-year break was held in the Armenian church on September 11, 2010. The ceremony brought many tourists to Turkey's Van province which resulted in Turkish authorities' decision to continue with the upkeep and the expanding of the lighting grid at Akhtamar Island of Van Province.
DASHNAKTSOUTIUN OPPOSITION LEADERS TO BE APPOINTED AMBASSADORS ?
28 August - Yerevan - Gibrahayer e-magazine - Armenian media sources report that two prominent members of the opposition ARF Dashnaksoutiun will be appointed Ambassadors. Tert.am's sources report that the appointees are Levon Mkrtchyan of Dashnaktsoutiun Bureau and Vahan Hovhannisyan, leader of the party's Parliament Bloc. Their agreements have been reportedly sent to the corresponding counties. France is said to be one of the countries in question.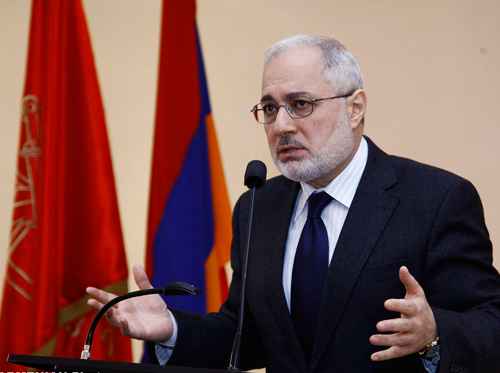 ANOTHER BATTERING OF AN 80-YEAR
OLD ARMENIAN WOMAN IN BOLIS
Bolis (The Armenian Weekly) - An 80-year-old Armenian woman was the victim of a recent assault in Ferikoy neighborhood in Bolis on 17 August Agos newspaper has reported. The victim was Markırıt Camkosoğlu, who lived alone. The assault happened in her apartment on Savash Street.
Camkosoğlu recounted the following to Agos: "On my way home from the supermarket, I noticed a stranger standing at the entrance of the building. At first, I was not suspicious. The man was of medium height, and was dark and ugly. I thought he was one of the neighbors and was going upstairs. The building I live in is massive, and so it is impossible to recognize everyone. However, as soon as I opened my apartment door, the man attacked me. I fell on the floor, and as I lay there, he started hitting me in the head. I believe he attempted to murder me. I don't know his voice—he did not say a single word to me to hide his identity. After beating me, he stole my purse, which was on the table and which contained only 70 Turkish liras. Then, he ran away."
Camkosoğlu added that she had been living in her apartment for 50 years, and this was the first time that such an incident had taken place.
During the investigation, the neighbors stated that the attacker must have been familiar with the entrance to the building. Moreover, he knew that Camkosoğlu lived by herself. For these reasons, he had chosen to attack at a time the building was calmest in terms of foot traffic.
This incident is similar to earlier attacks on old Armenian women that took place in the Samatia district of Bolis earlier this year. One of these earlier assaults led to the death of Maritsa Küçük.
125 YEAR-OLD HOUSE IN BOURJ HAMMOUD
WAS A POLICE STATION DURING OTTOMAN TIMES
Image by Ishkhan Antranikian
Sako Aryan has moved to Armenia
Link here: http://www.repatarmenia.org
http://www.youtube.com/watch?v=OODkdSeVCzo&list=PLC8jJ5vmia38gaq51ZDePUhM-uZo5XkG8#t=43
GLAMOROUS HELICOPTER TOURS ACROSS ARMENIA & ARTSAKH by PRANA TOURS
A unique experience across the Armenian skies by helicopter, to Artsakh, and to remote destinations and Monasteries.
VOYAGE 1: ARAGADZ – Khash Brunch, Hiking (optional but free), Visit to Alikhanyan Observatory, Kebab lunch and Rest House siesta on the four-hilled mountain lake - $ 270
VOYAGE 2: ARTSAKH (Nagorno-Karabakh Republic) Yerevan - Tatev Monastery Syunik - Shushi (Artsakh), Gandzasar (Artsakh) - Dadivank - Yerevan $ 570 (includes Artsakh Republic visa and lunch/picnic)
VOYAGE 3: NORTH ARMENIA & LAKE SEVAN - Yerevan - Ambert Castle – Haghbad, Sanahin and Odzoun Monastery - Lunch and swimming (optional) in Lake Sevan - Yerevan - $ 470.

Trips conducted by experienced and licensed Armenian veteran pilots.
Departures: Beginning from 30 July.
Tailor-made Charter trips to destinations of your choice can also be organised.
For further information:
Armenia Tel: 010271666 - 055250013
Email: pranatour@mail.ru
Web: www.pranatour.am
THE COLOUR WORLD OF ARAM NERSISYAN
Click here to enter the world of Aram Nersisyan
Click here to enter the world of Aram Nersisyan
Click here to enter the world of Aram Nersisyan
Images of AYF Camp in Troodos & Sunday's closing ceremony
Click here for 200 images from AYF Camp 2013
Click here for 200 images from AYF Camp 2013
Click here for 200 images from AYF Camp 2013
Click here for 200 images from AYF Camp 2013
GOLDEN AUTUMN TOUR TO ARMENIA
by Prana Tour
The Tour is being organised on the occasion of, the anniversary of Yerevan / Yerebouni from 9-18 October 2013. Details to follow:
► Golden Autumn Concert with the participation of the most performing Stars and Singers of Armenia.
► Excursion at the Opera Building, meeting with management, actors and dancers followed by Opera or Ballet performance.
► Theatre performance of your choice.
► Dance Performance by the National State Dance Ensemble.
► Get-together with members of Parliament for a briefing and a tour of the the National Assembly building.
► Get- together with representatives of the Armenian armed forces and an on-site visit (no photos allowed).
► Visit to the Cognac factory plant with cognac tasting.
► A day trip of short destinations around Yerevan district, using the Armenian underground (METRO).
► Shooting and target practice at 10/10 Target Practice Centre.
► Five-course meal with Armenian band and Duduk soloists.
► A day at the Armenian ZOO.
► Two free days for relaxation and optional extras.

Optional Extras while in Armenia:
► Day trip with mini bus to Jermug resort, including lunch.
► Helicopter trip to remote destinations and monasteries.
► Football match of the Armenian Football Championship.
► Duck-Hunting at Nakhichevan border at an 18-lake 1,500 acre privately owned duck
migration reserve.
► Horse riding in Dilijan forests.
The package includes:
► Transfer from and to Yerevan International Airport.
► Bed and breakfast at Tora Luxury Hotel. www.torapalace.com
► Transportation tickets.
► Entrance tickets to theatres, performances and guide services.
► Transportation to and from veneus noted above.
► Price does not include Air tickets, as Diaspora Armenians from the Americans, Europe and the Middle East wil be participaiting in the Group and ticket prices from their respective countries vary. If you desire, we can help you with air tickets.

Not included:
► Visa on arrival only to non-Armenian citizens

ALL-INCLUSIVE price: only 680 euros

Gibrahayer Calendar
- Wednesday 25 September at 8:00 at Homenetmen AYMA - Hamazakayin Cyprus welcomes you to this year's first literary evening dedicated to Hagop Baronian. Small sketches of his most famous works will be performed during the evening. Wine and nibbles will be served.
- Sunday 3 November - Armenian Relief Society's (HOM) Cyprus Sosse Chapter's Autumn Luncheon at Homenetmen AYMA.
- November (date to be announced) - Armenian Relief Society's (HOM) Cyprus Sosse Chapter's 25th anniversary celebrations at the Presidential Palace under the auspices of the First Lady Andri Anastassiades. Details to follow.
- Sunday 8 December - Armenian Relief Society's (HOM) Cyprus Sosse Chapter's Christmas Bazaar.
"NANOR" ARMENIAN CENTRE TO
START OPERATING THIS MONTH

Ararat as seen from the Nakhichevan border

Nareg Summer school Album 3 - Images by Mikela Aynedjian
For another 136 images from Nareg Summer school Album 3, click here
For another 136 images from Nareg Summer school Album 3, click here
FIRST NATIONAL LOTTERY IN ARTSAKH WITH GRAND PRIZES
You can get tickets by getting in touch with ARF Dashnaktsoutiun's Cyprus Gomideh members or through Gibrahayer e-magazine subscriber Artemis Gregorian - formerly of Australia and now living in Artsakh on Mobile - (374) 97212711 or by email nereni_nk@yahoo.com . Price $5. Prizes include Apartment in Artsakh, cars, carpets and jewellery. Tickets will be drawn on 28 December 2013.
TENNIS ZONE'S DOUBLES DUO BRING BACK
FIRST INTERNATIONAL TROPHY FROM YEREVAN
Gibrahayer e-magazine - 29 August Nicosia - Tennis Zone's four musketeers have returned from Yerevan, their first exodus to International tournaments that saw them qualify to two under under 18 tournaments and making it to round two of the main draw.
The four under 16 players also qualified for the Tennis Europe main draw that followed.
Christos KASAPIS and Christos KYRILLOU knocked out the number 1 seeds Roman BLOKHIN of Russia and Anatolii RAININ of the Ukraine in an epic 1-6 6-4 18-16 win that brought them to the finals.
Yiorgos Christodoulou and Edmond Aynedjian - who also qualified to the singles main draw - lost to the finalists Mikayel Khachatryan and David Yedigaryan 7-6, 2-6, 8-10 in an earlier round.
In the finals, Kasapis/Kyrillou lost to the Armenian pair 1-6, 6-4, 6-10 but brought back to Cyprus their first ever trophy of a Tennis Europe tournament.
Christos Kyrillou also made it to the quarter finals of the singles event, by defeating Dzhambulat Chantiev 2-6, 6-2, 6-4 and knocking out seed number 2 Anatolii Raiinin 6-2, 2-6, 7-5 ranked 113 in the world.
Having returned to Cyprus after a four week stay in Yerevan, the Tennis Zone team is now training for two international under 18 tournaments that take place in Nicosia and Larnaca that have attracted players from more than 30 countries.
Tennis classes for individuals and groups
for all ages begin on Monday 2 September
Get your official White Nights 2013 Tournament T-Shirt
Colour: Black
Quality: 100% Cotton
Sizes: Small, Medium and XLarge
Cost: € 12 with free delivery
Your orders: cyprustenniszone@gmail.com
By text: 99533684