ARMENIANS IN CYPRUS PREPARE
TO COMMEMORATE THE 98th ANNIVERSARY OF THE
ARMENIAN GENOCIDE
Gibrahayer e-magazine - Nicosia 15 April 2013 - Nicosia - Armenians in Cyprus are getting ready to mark the 98th anniversary of the Armenian Genocide with a series of commemorative events, at the centre of which will be the annual march in Nicosia.
The march will start at 6 pm from the parking lot on Makarios Avenue, opposite BIDI (opposite Mondo Cafe) and pass through Themistocli Dervi, across the Sfinakia traffic light towards Nikis Avenue, and left onto Kennedy towards Limassol Avenue where at 7 pm it will take a right from the traffic lights of Limassol Avenue to Armenias Street and will conclude at The Armenian Genocide Memorial.
A commemorative gathering will be held at the Armenian Genocide Memorial, which will be addressed by the Armenian MP Vartkes Mahdessian and Archbishop Varoujan Hergelian. The event is under the auspices of the Mayor of Strovolos Lazaros Savvides who will also address the event.
Events begin on Saturday 20th of April, where community members will donate blood to the blood bank of Cyprus General Hospital between 3:30 to 6:30 pm at a special facility that will be set up at Nareg school.

On Thursday 18th of April Armenian MP Vartkes Mahdessian will address the Cyprus Parliament at a special commemorative session in the Cyprus Parliament.
Photo above - Haroutiun Anmahouni archive of photos from the 60th anniversary commemoration of the Armenian Genocide in Nicosia - Cyprus (April 1975)
TURKEY - ISRAEL: THE NEW
GREAT GAMES AND CYPRUS
By Daniel Dombey - FINANCIAL TIMES- Wednesday 10 April, 2013 - There is a new Great Game afoot and it is taking place beneath the sea floor of the eastern Mediterranean.
Turkey and Israel's tentative reconciliation is a process so fraught that US Secretary of State John Kerry appeared in Istanbul at the weekend to chivvy the two sides towards restoring full diplomatic ties. But if the steps he set out can be taken — agreeing compensation for nine Turks killed by Israeli forces in 2010, avoiding inflammatory talk, exchange of ambassadors — then a whole series of changes could be unleashed from Damascus to Brussels.
In particular, there is the question of a pipeline that could ferry newly discovered Israeli natural gas to energy-hungry Turkey — a move that would knit the two US allies closer together, despite enduring suspicions.
"It is possible that cooperation in energy between Turkey and Israel could follow an anticipated rapprochement," said Taner Yilidz, Turkey's Energy Minister, on Monday.
Turkish officials caution that bilateral talks on such cooperation can only really get going after ambassadors are exchanged — but add that business contacts on the topic are already burgeoning.
Ozgur Altug at BGC partners in Istanbul contends that rapprochement means that "relatively weak Israel-Turkey economic relations will pick up again". He observes that although Turkish exports to Israel have risen over the last decade (falling back slightly in 2012) to their current level of $2.5bn, they have declined as a proportion of Ankara's total exports (of which they now account for about 1.5 per cent rather than more than 2 per cent previously).
While noting that the two countries have relatively tiny levels of direct investment in each other, he highlights the potential for tourism. Israelis represented more than 2 per cent of tourists coming to Turkey in the early 2000s, a level that fell to just 0.3 per cent as of the end of last year.
But the biggest economic issue is probably gas. Altug calculates that Turkey could save $1bn a year in energy costs if it entered into a gas joint venture with Israel, a figure that could dramatically escalate if other initiatives, such as a possible Turkish energy deal with Northern Iraq, were factored in. Because of such developments, he reckons that Turkey's current account deficit, the country's economic Achilles heel, which reached 10 per cent of GDP in 2011 and was still above 6 per cent in 2012, could be kept below 5 per cent from 2016.
Such an economically significant relationship would have other consequences as well. Though diplomats from both sides warn the Israeli-Turkish relationship is unlikely soon to return to 1990s-era warmth, cooperation on Syria, which both sides hope will avoid becoming a failed state and which Israel wants to keep out of the control of the Muslim Brotherhood, is a distinct possibility.
Turkish-Israeli energy cooperation could also have an impact on Cyprus, which has gas finds of its own that are adjoining but smaller than Israel's discoveries. If Cyprus finds itself bereft of Israeli cooperation it may lack economies of scale to proceed with a multi-billion dollar LNG plant or a pipeline to Greece.
Although Turkey, which invaded the island in 1974, has no diplomatic relations with the internationally recognised Cypriot government, Yildiz pointedly remarked on Monday that if energy cooperation with Israel went ahead Turkey might "also like to see Greek Cyprus involved".
If, somehow, Turkey and Cyprus managed to establish a relationship, this in turn would unblock one of Ankara's biggest problems with the EU, since not a single negotiating chapter of Turkey's membership talks can be closed as long as a standoff continues in which Ankara bans Cypriot vessels from its ports.
The stakes are high, therefore, in the Turkey-Israeli reconciliation. But two questions hang over the whole scenario of mutual economic benefit, closer cooperation in a region in chaos and a roadblock removed from the highway to Brussels.
First, can the Turkey-Israeli rapprochement prosper without a change of Israeli policy on the Palestinians, whose cause is a rallying cry for Prime Minister Recep Tayyip Erdogan? And second, do Erdogan and Benjamin Netanyahu, Israel's Prime Minister, see the healing of their own frayed ties in strategic terms, or simply as a tactical measure, taken in part just to keep the Americans quiet and not worth investing much more political capital in?
The future of the region — and the geopolitical map of the Eastern Mediterranean — depends on the answers.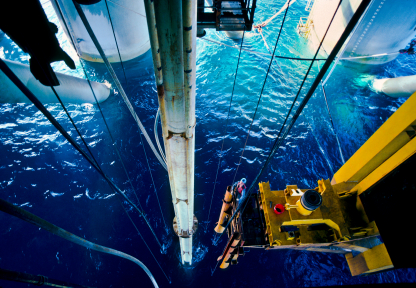 HOVANISSIAN SUPPPORTERS
CLASH WITH POLICE IN YEREVAN
YEREVAN (A.W.) - Inauguration day in Armenia on April 9 culminated in clashes with police just blocks from the Presidential Palace.
Thousands of supporters of Raffi Hovannisian—the opposition challenger who claimed victory in the presidential elections—followed him en masse into the streets after his evening rally at Freedom Square, where he announced he will be heading to the presidential headquarters.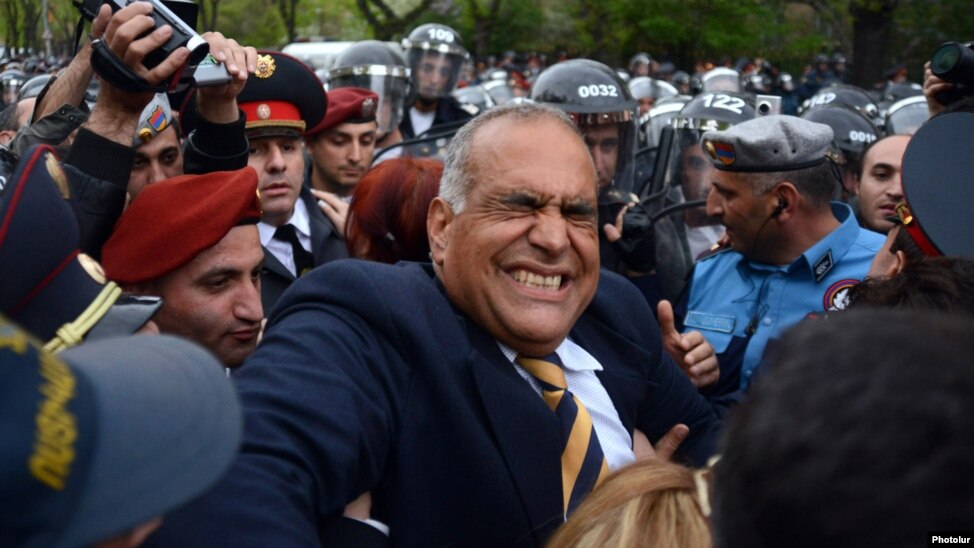 "Together, hand in hand, we are going to Baghramyan 26 [the presidential palace] which belongs to us," announced Hovannisian at Freedom Square.
Those attending the rally flooded the streets of Yerevan, where they shut down traffic and stood head to head with riot police who blocked the main thoroughfare leading to the President's residence.
Intermittent clashes ensued as the police stood in a line blocking the procession from moving beyond the corner of Baghramyan and Isahakyan streets. After several minutes of negotiations, Hovannisian, together with the head of police, began walking in the opposite direction toward the Armenian Genocide Memorial in Dzidzernagapert. There, he held a candlelight vigil and prayed for a new Armenia.
Meanwhile a large segment of the protestors remained behind in a standoff with the police, refusing to change their intended destination: the presidential palace. Despite repeated warnings to disperse, much of the crowd stood their ground into the late evening.

Hovannisian returned to the standoff hours later, negotiating with police once more, and was eventually allowed to lead the remaining protestors toward the presidential palace in a peaceful march.
"While I am still here, nobody should take unilateral steps," Hovannisian told the crowd. "We are going to move forward together peacefully. Anyone who does not do so is a saboteur."
The tense confrontation followed a daylong string of actions protesting the presidential inauguration of Serzh Sargsyan, who was officially sworn into his second term.

In his earlier "alternative" inauguration gathering in Freedom Square, Hovannisian struck a much more reserved tone, as he labelled Sargsyan's re-election illegitimate and invited the crowd to another rally on April 12 to discuss future steps geared toward challenging the Yerevan municipal elections in May.
Chants of "Now! Now!" could be heard among the visibly disgruntled crowd that called for a swift and immediate challenge to the presidential election they deemed fraudulent.
This disappointment expressed by the crowd at noon was most likely the motivating factor behind the much bolder, unexpected march, and standoff initiated by Hovannisian during the evening rally.
the aftermath of the political wave of discontent
ARMEN RUSTAMYAN'S INTERVIEW ON THE INTERNAL POLITICAL EVENTS IN YEREVAN
click here for an in-depth analysis of the events in Yerevan:
www.youtube.com/watch?feature=player_embedded&v=6m0m6u7lYEg
HOMENETMEN CONCLUDES REGIONAL CONFERENCE IN CYPRUS
News of the event here: www.aztagdaily.com/archives/113247

www.facebook.com/mediaset?set=a.52
2878277755151.1073741839.185812434795072&type=3
Gibrahayer e-magazine's Video Interview with HMEM Central Executive President Karnig Megerditchian : click here -
http://www.youtube.com/watch?v=flYbPxHbe-A&list=HL1364914650&feature=mh_lolz
https://www.facebook.com/media/set/?set=a.522878277755151.1073741839.185812434795072&type=3
Arto Tellalian receives a special medal from the Homenetmen Central Executive President Karnig Megerditchian for his long-lasting contribution to AYMA and the extended family of Homenetmen, acting as President of AYMA and also for his initiative to enlarge the current premises of the club with a multi-purpose hall.

https://www.facebook.com/media/set/?set=a.524004490975863.1073741842.185812434795072&type=1
SIPAN ENSEMBLE PERFORMS AT THE ROTARIAN DISTRICT CONFERNECE
IN LIMASSOL - CYPRUS

Governor Kevork Mahdessian talks to Masis Der Partogh about the Rotarian Regional Conference in Limassol click here: www.financialmirror.com/web.php?vid=2594

CONCERT IN NICOSIA IN MEMORY
OF JULIETTA MOVSESYAN
CLAUDE MUTAFIAN IN CYPRUS: VISITS NAREG - VIDEO INTERVIEW TO GIBRAHAYER E-MAGAZINE
more images click here
www.facebook.com/media/set/?set=a.524834034226242.1073741843.185812434795072&type=1

VIDEO interview to Gibrahayer e-magazine here
www.youtube.com/watch?v=XkEvc_sG7yE
MELKONIAN MEMORY LANE 1974
On Gibrahayer Facebook
Michael Nile - Oh God. What savagery.
Rita Mahdessian - Bastards
Zohrab Kouyoumdjian - Tserkernin gedervi
Paul Michaels - You cannot compare to the damage caused by AGBU.
Marie Soudjian Najarian - It's true Paul!!! I'm Melkoniantsi!!!!
Jack Tachdjian - to think that was our sleeping yard, 120 beds no walls.
Alexander Neo - Nazaret Kalfayan can tell you the story of the bombing.
Hagop J Shakelian - After that attack at least it was renovated and continued its mission. The Turks could not close it with bombs. Bottom line it is closed and no bombs were needed. Turks should show some appreciation to ......
Souren Sarafyan - The school was bombed inadvertently, what they call "collateral damage" nowadays. They were bombing the radio station next door.
The AGBU though closed the school on purpose, how ironic!
ARMENIAN NATIONAL TV
ON GIBRAHAYER
CLICK HERE for the eight minute report by Haykaram Nahapetyan

http://www.1tv.am/hy/30-03-13---First-News---21-00
Cyprus report from minutes 13:47 - 21.34

CLICK HERE for the eight minute report by Haykaram Nahapetyan
http://www.1tv.am/hy/30-03-13---First-News---21-00
Cyprus report from 13:47 - 21.34

YEREVAN - VAN
FLIGHTS CANCELLED
TodaysZaman - Turkey's decision to cancel new flights between Turkey's province of Van and Armenia's capital city of Yerevan, which were expected to start on April 3, is being greeted with enthusiasm by Azerbaijan.
Azerbaijani Foreign Ministry spokesperson Elman Abdullayev has said that Ankara's decision to cancel the flights, which were to be operated by BoraJet, to its long-estranged neighbor, Armenia, is of great importance for Azerbaijan. "There were some groups in Azerbaijan that took opposition to the flights in question. They would have been operated by a private company, but due to political and economic conditions they won't take off," Abdullayev was quoted as saying on Wednesday.
The flights between Armenia and Turkey would not have been the first between the two countries. Armenia's national carrier, Armavia, operated flights between Armenia and Turkey before it filed for bankruptcy last month. Van-Yerevan flights were scheduled to run twice-weekly and would have connected Armenians to what they call their "historical homeland." The flights were encouraged by Turkey's reconciliation moves with Armenia and were meant to boost bilateral tourism and trade.
Commenting on Turkey's outstanding support for Azerbaijan in the region Abdullayev said: "Armenia is an aggressive country and occupied Azerbaijan's territories. In this case the role of Azerbaijan's strategic ally, Turkey, is very important, as Ankara's pressure on Yerevan is necessary," he said. "We have always felt Turkey's support and for that we are thankful to Ankara."
IN ARMENIA THIS SUMMER
HAMAZKAYIN'S ANNUAL PERFORMANCE TO TAKE PLACE ON SATURDAY 11 MAY
US COURT RULES AGAINST TURKISH BANKS
OVER ARMENIAN GENOCIDE LAND SEIZURE
A US District Court judge has ruled that the federal court system has jurisdiction to hold Turkish banks accountable for seizing land from Armenians during the Armenian Genocide, Glendale News-Press reported.
This ruling was attached to judge Dolly M. Gee's dismissal of a lawsuit brought against the Central Bank of Turkey and TC Ziraat Bankasi, which is a Turkish agricultural bank, as well as the Republic of Turkey seeking roughly $65 million in damages.
Rajika Shah, one of the lead attorneys for the plaintiffs, said that despite the dismissal, the judge's ruling handed down late last month was important because it established that if a government takes its own citizens' property during human-rights violations, it isn't immune from being sued in the US courts.
The lawsuit was filed in the fall of 2010 by three descendants of Armenian Genocide victims seeking compensation for land they claim was illegally seized when Ottoman Turks drove Armenians from the Adana region of southern Turkey during the 1915-1923 genocide.
Shah said the plaintiffs will likely file an appeal with the U.S. 9th Circuit Court of Appeals by April 25.
Gee dismissed the case under the "political question" doctrine, which is applied when a matter should be handled by the executive or legislative branch of the government, not the courts.
Vartkes Yeghiayan, of Yeghiayan & Associates in Glendale, represented the plaintiffs and has previously pursued multiple lawsuits seeking compensation for Armenian Genocide victims.

Yeghiayan was on a legal team that in 2005 brought a lawsuit that resulted in a $17.5-million compensation fund, set up to pay claims that two insurance companies failed to compensate descendants of Armenian Genocide victims who bought policies.
The law firm of Schwarcz, Rimberg, Boyd, and Rader also represented the three plaintiffs — Alex Bakalian of Washington DC, Anais Haroutunian of Pasadena and Rita Mahdessian of La Crescenta.
Mahdessian, who is Yeghiayan's wife, is a lawyer with Yeghiayan & Associates.
Lucy Varpetian, senior assistant city atty. for Glendale, said that these types of lawsuits matter not only to the plaintiffs, but for the Armenian community as a whole when they can hold Turkish institutions accountable.
"It's an important issue because, with the genocide commemorations coming up, I think these issues continue to haunt the community and at least they're finding some degree of peace," Varpetian said.
TURKISH PROFESSOR UNMASKS TURKEY'S CRIMINAL SECRETS, OUTLINING THE EIGHT PHASES OF THE ARMENIAN GENOCIDE
By Appo Jabarian - Executive Publisher / Managing Editor - USA Armenian Life Magazine - Ankara is fast at work to counter the wave of intra-national and international recognition of the Armenian Genocide. But is it successful?
Recently a damning Turkish documentary surfaced on Youtube.com
unmasking the eight phases of the 1915-1923 Genocide.
Professor Ugur Ümit Üngör, a lecturer at the Department of History at Utrecht University and at the Institute for War, Holocaust, and Genocide Studies in Amsterdam, revealed the Turkish-documented inner workings of Turkish-masterminded and executed government policies of mass deportations, dispossession, and annihilation against the Armenians then living under Ottoman yoke.
Personally I watched it at least half a dozen times. In the documentary Prof. Ungor clearly outlines the damning details of Turkey's secret plans to exterminate the Armenians and to expropriate their real and personal properties as well as their ancestral homelands in Western Armenia.
Professor Ungor, author of the "Confiscation and Destruction: The Young Turk Seizure of Armenian Property (Continuum, 2011)" and the award-winning "The Making of Modern Turkey: Nation and State in Eastern Anatolia, 1913-1950 (Oxford University Press, 2011)," elaborated on "how Western Armenia became part of Turkish nation state. And he went on to illustrate how "the confiscation of the properties of Armenians" was carried out. He underlined the fact that "This process hasn't really been studied."
He contrasted it to other mass murders and Genocides, "such as the Holocaust, the Genocide in Bosnia and the one in Rwanda."
He went on: "The Genocide was not one process. It was not just deportations; just massacres. But it was a whole range of destruction policies and I count at least eight of them. Then I'll move on to discuss some of the laws such as confiscation, expropriation, and finally I would like to give an example of one Armenian business that was expropriated by Ottoman Young Turk government. .. In several cases (the processes) overlapping one another … geared into each other, they work together to produce the intended process of destruction."
Then he went on to list the eight phases of the Armenian Genocide.
1) Firing of all Armenian civil servants in the Ottoman Empire
"Starting in early winter 1914, Talaat Pasha fired all the Armenian civil servants in the Empire starting with the police officers, civil servants, firemen, teachers – primary school teachers secondary school teachers. All Armenians were fired from the Turkish bureaucracy," noted Prof. Ungor.
2) Decapitation
"Talaat and company then moved on to the second phase of the process which was decapitation, and this was of course the infamous arrests of April 24, 1915 paving the way to the complete decapitation of the Armenian elite in Istanbul and was replicated in the provinces," he said.
He continued: "I'd like to say two things and I think this is extremely important, first of all these were extremely systematic; there were lists of the men to be arrested and executed and of course these lists were sent back to Istanbul for corroboration. Secondly this was extremely a fast process. Time flies especially in the Armenian Genocide. In matter of weeks complete elite of the Armenian community of the Empire – cultural intelligentsia; economic intelligentsia; religious intelligentsia were destroyed."
Then he showed two photographs, the first one depicting Krikor Zohrab, a famous writer, an Ottoman Armenian member of the Ottoman Parliament headquartered in Istanbul; the second depicting Mikael Khachaturian, the Bishop of Malatya.
Then he drew sharp contrasts between the two men: "It was interesting to study the biographies of two very different men.– Krikor Zohrab, very critical of the church and very liberal; and Bishop Khachaturian, a very pious, very spiritual and strong believer in the Christian faith. Both of them were arrested. Both of them were murdered. I think this is quite important — two very different individuals that have nothing in common except for the fact that they were Armenians. And this is the essence of the Genocide – reducing people to their ethnic identity."
3) "The third phase was heralded through the deportations. On 23 May, exactly one month after the massive arrests of the elite, Talaat Pasha ordered complete deportation of all Armenians into the Syrian desert of Deir-ez-Zor. And this is also important because this order was published and we found the official document in the Ottoman archives in which they ordered this and which in itself is a genocidal order for the complete deportation of the civilian population into the desert," he underlined.
4) "The fourth phase was the dispossession process. Between May and November 1915, Talaat Pasha issued four decrees in the form of laws — and of course they had nothing to do with the laws. For laws, you need to have a legal process; separation of powers. That was not the case because it was a dictatorship. He began with a deportation order and the first order which was about deporting all of the Armenians contained provision that Armenians could bring along everything they wanted. 'So you have a house; you have lands to sell. You can take the money with you and then you can go to the Deir-ez-Zor where you will be resettled.' That sounded promising. But then of course the new decrees reversed this policy. In June 1915, the government established Abandoned Property Commissions and these were really organizations to assault the Armenian economy. With one decision, all of the properties were officially handed over or transferred to the government. So they took the decision and they had to fine tune it so they took more decisions. One in September 1915, when they delegated the implementation of this huge plan to three Ministries – the Ministry of Interior, the Ministry of Finance and the Ministry of Justice because they understood that this is a huge process. And who's going to organize it? These three Ministries! And they of course had a record of all these properties and they corresponded among each other. And we have correspondences. They are in the Ottoman archives in Istanbul. I looked at them extensively," he asserted.
5) "The fifth phase was mass murder. From the summer of 1915 on, the special units began murdering Armenian civilians throughout the Empire. So far we had very little information of these men of the organization "Tashkilat al Mahsusa". What kind of organization was this? How was it set up? I found this document – a photo in the archives of the Ottoman government. It was interesting to see that all of them were dressed in the same uniforms. And secondly, even more important, they're standing in front of the War Ministry in Istanbul. So no longer can the government say that we have nothing to do with these – with Chechens running wild, and posing for photographs in front of the War Ministry. The building still exists. It is now converted into a military museum in Istanbul. And the list goes on," he added.
6) "The sixth phase of the Genocide was forced assimilation. The absorption of women and children into the Turkish households. This is also significant in the genocidal process because it was an assault on cultural identity of people. By making sure that people could not reproduce; could not continue to perpetuate their identity. It is an assault on an abstract idea of culture embodied in these individuals. This is the essence of what Genocide is. Men were separated from women. Children were separated from their parents breaking up the most essential ties in human beings," he further noted.
7) "Then we had the seventh phase of the Genocide – the famine crime. Starting in 1916 on those Armenians were forced into Deir-ez-Zor and were pushed into organized artificial famine zones. People were put into the region where (the Turkish soldiers) prohibited bread from reaching the victims. And this is extremely important. You can distinguish what makes it genocidal. The Turkish people that were living in Deir-ez-Zor were given bread. The Armenians were prohibited to buy bread. Why did they do that? Of course there is no question about the intention behind this policy. And I'm still not finished," he emphasized.
"The final phase of the Genocide was the assault on material culture and architecture. Starting from 1915 on there was a policy that was continued well into the 1920′s when the Turkish government continued destroying churches and monasteries. And here's only one example: Sourp Hovhannes (monastery) in Alashkert (he showed an old photo depicting the church in Alashkert on the left and also showed a new photo of the same location depicting a destroyed church then he said: "And what is left of the monastery was the foundation only. And you can clearly see that this is the same place. Some of my students have asked me, how to know if this is the same place? He responded: "I'll show it to you. The black stripe here in the mountain (in the background of the church), and these are the foundations of this monastery," he illustrated.
Speaking of the entire eight processes he said: "Together and only together they produce a coherent process of destruction. By the end of the war there were approximately 2900 Armenian settlements that were depopulated by about a million Armenians because they were dead. I'd like to move on to the dispossession policy. These eight phases have to be studied and in fact they are studied in details."
I must acknowledge that this article in no way is an adequate report on the monumental work done by Prof. Ungor. Watch the video on Youtube.com at the following link: https://www.youtube.com/watch?v=y6_InAhUmmM. The presentation is in English with Turkish subtitles. Please share it with your friends. One needs to get further acquainted with Prof. Ungor's works in order to grasp the magnitude of his revelations.
As well-informed members of the new Turkish generation emerge, denialist Turks see the walls of silence falling around them.
SUPPORT THE ARMENIAN CAUSE
Apply to any of the members of the Armenian National Committee of Cyprus, or its President Hagop Kazandjian, Tel: 99394414.
In these hard times for our community organizations, all those who can, should stretch their hand...to keep them going.
tonight Wednesday 17 April at 8 pm
The next literary evening organised by Hamazkayin's Cyprus Oshagan Chapter will take place on Wednesday 17 April at 8pm at Homenetmen - AYMA. The evening is dedicated to the Persian lyric poet Hafez that will be presented by Lily Hovsepian. As usual, wine and nibbles will be served.
All are welcome.
"Lonely planet" the official video clip of the 2013 Armenian entry to the Eurovision Song Contest performed by Gor Sujyan has been released.

click here: http://www.youtube.com/watch?v=fkHRvWoFLgg
Calendar of events:
► Wednesday 17 April at 8pm - Literary evening organised by Hamazkayin's Cyprus Oshagan Chapter at Homenetmen - AYMA. The evening is dedicated to the Persian lyric poet Hafez that will be presented by Lily Hovsepian. Wine and nibbles will be served. All are welcome.

► 98th Anniversary Armenian Genocide events: Please read article above for details.
► Saturday 20 April at 8:00 pm - Vocal Evening (in memory of Julietta Movsesyan) at Kasteliotissa. Solo Concert of Zara Barkhoudarian (Soprano), accompanied by Naira Gevorkian Tanilian. Participating Marios Andreou & Gore Melian.
► Wednesday 8 May at 5:00 pm - Mother's Day social gathering at the Utudjian Hall in Nicosia, organised by the Women's Committee of the Armenian Prelature.
► Saturday 11 May at 7:00 pm - SIPAN & NANOR Dance Group's performance at Strovolos Municipal Theatre. Organised by Hamazkayin's Cultural and Educational Association's Cyprus "Oshagan" Chapter, followed by dinner at Homenetmen - AYMA.
► Friday 17 May - KRAVADZ OR: Armenian Evangelical Church- Cyprus. Public Lecture in Utudjian Hall, Nicosia, at 8:00 pm. Details to follow.
► Saturday 18 May at 6 pm at Homenetmen - AYMA: Commemorative Event organised by ARF Dashnaktsoutiun's Artsakh Badanegan Miyoutyoun of Cyprus, dedicated to the 25th anniversary of the liberation of Artsakh.

► Sunday 19 May - Pilgrimage St. Magar Monastery organised by the office of Armenian Representative.
► Friday 24 May- KRAVADZ OR - Mayrerou Or organised by the Ladies Committee of Sourp Asdvadzadzin Church - Details to follow.
► Friday 24 May - KRAVADZ OR - "Sosse" Cyprus Chapter of The Armenian Relief Society (HOM)
► Saturday 19 October - KRAVADZ OR - Sourp Asdvadzadzin Choir (daregan hantes)
► Saturday 9th November 2013 – KRAVADZ OR – Office of the Armenian Representative.
"NANOR" ARMENIAN CENTRE TO START OPERATIONS IN SEPTEMBER
PILGRIMAGE TO TURKISH-OCCUPIED MAGARAVANK TO TAKE PLACE ON SUNDAY 19 MAY, 2013
Images from last year: click here