ARMENIA STRIVING
FOR OLYMPIC GLORY
LONDON - Athletes representing Armenia in the Olympic Games arrived in London where they will be competing in a variety of sports, including boxing, weightlifting, wrestling judo, swimming, gymnastics, shooting, track & field and taekwondo.
The 25-person team includes four women, two of whom will compete in weightlifting and the other two in swimming and track each. On the men's side, seven will compete in wrestling, six in weightlifting, four in track & field, two in swimming, two in judo and one each in boxing, taekwondo,
gymnastics and shooting.
President Serzh Sarkisian will also attend the opening ceremonies of the Olympic Games, which will be held on Friday.
Prior to his departure, Sarkisian issued an encouraging statement to the athletes.
"Our compatriots in Armenia and the Diaspora will attentively follow your performances. I believe you will meet the expectations, and will join Olympic champions and prize winners from Armenia and find your place in the history book of Armenian athletics," said Sarkisian in his statement.
"I am confident that you will represent our country with honor, embark on fair competition, fully demonstrate your skills, and protect the honor of Armenia's athletic flag," said Sarkisian, who added that he would like to become an "eyewitness of your victories to share with you the joy of triumph."
Armenia took away six bronze medals in the 2008 Beijing Games. This time, too, they are looking to come back winners.
Boxer Andranik Hakobyan, told RFE/RL's Armenian service (Azatutyun.am) on Wednesday before leaving for London that he is in good form and aiming for an Olympic medal. "We are going [to London] with high expectations," said Hakobyan. "We should try to do our utmost to return home with a medal.
The youngest of the Olympic team members are 18-year-old swimmer Anahit Barseghyan and 19-year-old gymnast Artur Davtyan. Also on the team are wrestling champion Artur Aleksanyan, 20, who earlier this year won a gold medal at the European Wrestling Competition and weightlifter Norayr Vardanyan, 24. Vardanyan trained with his father, Yuri, who won a gold medal in the 1980 Moscow Games. The team also includes 2008 bronze medal winners 24-year-old Tigran Martirosyan (weightlifting and 32-year-old Yuri Patrikeyev (wrestling). Veteran Olympians Armen Nazarian, 30 (Judo), and Norayr Bakhtamyan, 41 (shooting) will compete in their third Olympic Games.
Chairman of Armenia's National Olympic Committee Gagik Tsarukian, has pledged a $700,000 bonus to athletes for each gold medal. Meanwhile the government has said it would reward the equivalent of about $72,000,
$48,000 and $24,000 to gold, silver and bronze medalists, respectively.
Aside from the 25 athletes competing in Team Armenia, an estimated seven athletes of Armenian descent will represent other countries.
Artur Ayvazyan, who won a gold medal in 2008, will again represent Ukraine in shooting competitions, while Misha Aloyan (boxing, 52 kg), David Ayrapetyan (boxing, 49 kg) and Arsen Galstyan (judo, 60 kg) will be competing for the Russian team. Vazgen Safaryants will represent Belarus (boxing, 60 kg). Tvin Moumjoghlian, 23 (table tennis) and Gretta Taslakian, 27 (track & field) will compete in the Lebanon team.
CYPRUS TAKES CHARGE OF
THE PRESIDENCY OF THE EUROPEAN UNION COUNCIL
Cyprus takes charge of the rotating Presidency of the EU Council today, the third and last in line of the Trio Presidency after Poland and Denmark.
Eight years and two months to the day after Cyprus' historic accession to the European Union, this tiny island state gets to sit at the head of the highly complex European decision-making machinery.
Poland, with a population of close to 40 million, used its first time at the helm to run a 'big' Presidency, matching its ambitions in Europe as a medium-sized state. Denmark, with a much smaller population of five and a half million, is no less important or influential. With nearly four decades of experience as an EU member, the Scandinavian state hands over the baton to Cyprus after completing its seventh EU Presidency.
Clearly, Cyprus will have its work cut out to handle the ongoing economic and eurozone crisis while monitoring alongside the EU's foreign policy chief Catherine Ashton the unpredictable situation brought on by the winds of change in the Arab world.
Its inexperienced institutions and civil service will be put to the test on a daily basis, tasked with managing the same challenges that each and every member state, large or small, faces when running the Presidency, along with the unforeseeable ones.
This time last year, the secretariat, charged with steering Cyprus safely through the six-month Presidency, was leaderless for three months following the resignation of its then head Andreas Moleskis.
When his replacement was finally appointed, Deputy Minister for European Affairs Andreas Mavroyiannis showed he was fully cognizant of the enormity of the mission.
"Cyprus will face one of its biggest challenges as an EU member state, but also as a state," he told the Sunday Mail.
He likened the Presidency to a "maturity test" for the country which has suffered a turbulent existence since gaining independence in 1960. This was the chance to build a picture of Cyprus as a credible, equal and responsible EU partner, he said.
It's also a chance for public servants to really get a grip with what's going on in Europe, which as we all discover bit by bit, day by day, has a massive impact on our daily lives.
The hope is that the knowledge and experience gained will trickle down to the rest of society, making the public more concerned and engaged with the goings on and decision-making processes of this union of 27 states and five hundred million people.
And true enough, for those observing preparations for the Presidency, the public service has undergone a facelift in recent months, along with the capital's roads and pavements.
There is more information on the Cyprus EU Presidency's official website on who is responsible for what and in which department than you could ever find on any Cyprus government website.
What would have taken hours and days of phone calls, being bandied about from one helpless operator to another, now takes minutes on the Presidency website where one can find the name, contact number and even welcoming photograph of the Cypriot official responsible for any subject matter that comes under EU competences. And for the record, that's quite a lot of subjects.
One of Cyprus' greatest challenges is dealing with the distance between Nicosia and Brussels. The government's response has been to make the Presidency a Brussels-based one, with the permanent representation considered the frontline, boosted by new staff and public officials seconded to the EU capital. It has also been given a lot more autonomy than usual to make quick and important decisions.
Cyprus has a hugely demanding organisational role to play as well as that of an honest broker while showing political leadership by acting in the general European interest.
Cypriot officials will have to chair hundreds upon hundreds of meetings at various levels, and manage a number of tough issues, including working with the European Parliament to push through a load of European Commission legal proposals, completing negotiations on the Multiannual Financial Framework (MFF) for 2014-2020, handling the economic crisis, strengthening economic governance, promoting growth and jobs and concluding a Common European Asylum System (CEAS) by the end of the year.
Those chairing the meetings have a decisive role to play, since they have to find the right balance among the different positions of the EU member states to reach a compromise consensus that would meet the interests of the member states as well as the overall interests of the EU and its citizens.
At the same time, there are certain national interests that can not be entirely ignored, like the €510 million shortfall in funds earmarked for Cyprus in the next EU seven-year budget. Or Turkey's belligerent approach to the Cyprus Presidency and its questioning of Cyprus' right to make use of its energy resources.
Most of the policy priorities for which Cyprus will guide discussions and negotiations on are inherited from the existing EU agenda. Cyprus does have its own priorities of course but it remains to be seen whether these will be used to bring nuance to the debate on the inherited agenda or as a springboard for entirely new policies.
Mavroyiannis has said he wants to avoid "unproductive debates" on whether we want to see more or less Europe, a stronger or weaker, wider or deeper Europe.
Instead, the Cyprus Presidency will aim to promote the idea of working towards a 'Better Europe'; which is also its slogan, the idea being to find ways to make citizens feel closer to the union, shining the spotlight on solidarity and the effectiveness of EU policies, while making the EU more relevant in the world.
"We're not talking about theoretical debates. We're saying when your house is on fire, you need to improve the situation," he said.
Earlier this month, the Cabinet approved the Cyprus Presidency's four main policy priorities: to make Europe more efficient and sustainable; develop a better performing and growth-based economy; make Europe more relevant to its citizens through solidarity and social cohesion; and bring Europe closer to its neighbours in the world.
Within each of these priorities lie a host of inherited policy objectives. The issue is how to meet them and where to put the focus on.
Cyprus clearly wants to see the strict austerity measures adopted to clean up member states' fiscal policies complemented by measures for sustainable economic growth and job stimulation, particularly among the young. The dearth of job prospects for the EU's youth is having a massive social as well as psychological impact on the region, particularly for countries like Spain and Greece.
The Presidency wants to see the 20th anniversary of the EU's Single Market welcomed alongside a stronger regulatory framework of financial services to ensure greater market transparency and consumer protection.
It wants to promote measures to improve infrastructure in Europe, and strengthen economic, social and territorial cohesion.
Cyprus will also focus on the sustainable management of resources, especially water, and re-energise the EU Integrated Maritime Policy.
The Mediterranean island will also use its close ties to the region to enhance relations with Europe's southern neighbours.
This Wednesday, President Demetris Christofias will officially present the Cyprus Presidency's priorities and programme to the European Parliament (EP) in Strasbourg while his Ministers will do the same throughout the month before the EP's 20 committees. On July 5, the opening ceremony will be held at the ancient Curium amphitheatre.
Taken alone, the above 'wish list' for the Presidency far supersedes in size, number and importance anything ever seen on a Presidential election manifesto.
Let's hope the brilliance of the shimmering moonlight on the Mediterranean waters facing the Curium will not be the only thing to dazzle our European partners during the next six months.
CYPRUS PREPARED TO FACE TURKISH CHALLENGES AND THREATS DURING EUROPEAN UNION PRESIDENCY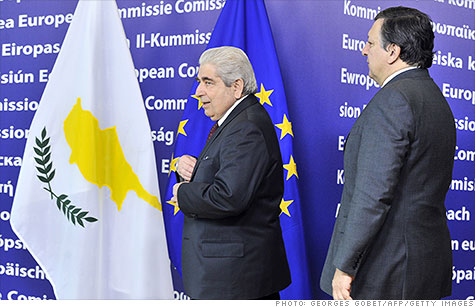 www.financialmirror.com 28 June, 2012 - The Cypriot EU presidency is prepared to face all scenarios as regards any Turkish attempt to disorientate Nicosia from exercising its six monthly rotating presidency of the Council of the EU, which begins in July.
Diplomatic sources have told CNA that the Cypriot government does not exclude the possibility that Turkey attempts to create artificial tension as regards Cyprus.
It is expected that Turkey could act so in an effort to disorientate Nicosia from exercising successfully its six - monthly EU rotating Presidency.
Nicosia has repeatedly conveyed the message to its EU partners that it is prepared to face all scenarios and has acted in a pre-emptive manner.
Turkish officials have said Ankara would freeze any relations with the six monthly EU Presidency, during Cyprus` term which begins in July.
Cyprus believes that Turkey`s stance concerns the EU exclusively and relates to EU institutions and recalls the December 2011 European Council conclusions, in which the EU leaders express serious concerns over the Turkish stance and threats and call for full respect for the role of the Presidency of the Council, which is a fundamental institutional feature of the EU provided for in the Treaty.
The Cypriot EU Presidency has said it would act as an honest broker, promoting the EU interests, but at the same time it will continue facing Turkish threats and provocations and will not attempt to hide under the carpet the Cyprus problem and the continuing Turkish occupation of 37% of Cyprus` territory.
Nicosia has conveyed the message that the Cyprus issue and the Cyprus Presidency of the EU are two parallel and independent processes, and it will not accept to have a second class Presidency due to its national problem and to the stance of Turkey towards the Council of the EU.
Accession negotiations with Turkey began in October 2005. Turkey has so far managed to open 13 of the 34 chapters. Only one chapter has opened and closed, the chapter on science.
In December 2006, due to the Turkish failure to apply to Cyprus the Additional Protocol to the Ankara Agreement, the European Council decided that eight relevant chapters will not be opened and no chapter will be provisionally closed until Turkey has fulfilled its commitment. The eight chapters are: Free Movement of Goods, Right of Establishment and Freedom to Provide Services, Financial Services, Agriculture and Rural Development, Fisheries, Transport Policy, Customs Union and External Relations.
In addition, France has freezed other five chapters, while Cyprus froze in December 2009 other six chapters.
The last time that a negotiating chapter opened was during the Spanish EU Presidency in June 2010.
Three more chapters could open but the Commission deems that they are too difficult for the current stage of negotiations, while Turkey believes that the cost for their opening is not affordable for now.
Turkey, whose troops occupy Cyprus` northern part, does not recognise the Republic of Cyprus and refuses to normalize relations with Nicosia, a condition which is clearly stated in the EU Turkey negotiation framework.
Click on "donate" at the top of the page
TURKEY AND SYRIA'S LOST "BROTHERHOOD"
Klaus Jansen / GSW - Editor: Jessie Wingard - June 27 - Turkish-Syrian relations have reached a new low point, due in part to Syria shooting down a Turkish fighter jet. The two countries look back on a complicated history but were long on good terms.
Turkish Prime Minister Recep Tayyip Erdogan spoke at the beginning of 2011 of "Turkish-Syrian brotherhood," but those days are long gone. For more than a year, Syrian government troops have fought against opposition forces. Turkey wanted to act as a mediator in the conflict but was ignored by the Syrian regime, leading each of the two to expel diplomats from the other country.
Turkey and Syria's fates long seemed intertwined. For centuries, Syria was part of the Ottoman Empire. Turkish rule extended throughout the region, including parts of North Africa, before the empire broke up during World War I. Afterwards, Arabs in Syria no longer lived under Turkish rule.

Rifts and reconciliation
Tensions between Turkey and Syria have emerged repeatedly since the 20th century. During the Cold War, Turkey's sympathies were with the West, while Syria developed a relationship with the Soviet Union. Today, Russia's sole marine base in the Mediterranean is in the Syrian harbor city of Tartus.
The 1990s brought a significant political rupture. Syria offered political asylum to the head of Kurdistan Workers' Party (PKK), Abdullah Ocalan. Turkey threatened a war in response, and Ocalan was ultimately forced to leave Syria. He was then imprisoned in Turkey.
Afterwards, the Turkish-Syrian relationship grew significantly more relaxed. The two countries' border was opened, some visa restrictions between them were removed and trade limitations along the border were eliminated completely.

Economic interests at stake
Turkey, which has experienced a significant economic up-turn in recent decades, is certainly interested in expanding its trade routes, said Middle East expert Peter Philipp.
"Turkey maintains very close economic contacts in most Middle Eastern countries. Syria, as a neighboring country, is of course a very interesting market," he explained, adding that it is certainly a transit country for Turkish goods as they pass into other Middle Eastern countries.
But in spite of improved relations, some questions are unresolved. For nearly a century, the two countries have had a dispute about the coastal province of Hatay, which was promised to Turkey amid the turmoil of World War I. Another source of tension are stateless Kurds, who are oppressed in Turkey as well as in Syria.

Divergent foreign policies
Turkey's foreign policy toward other states in the region has long directed toward achieving neutrality and dialogue. The Turkish government mediated between Syria and Israel, for example.
"For a long time, that had a positive effect on the relationship between Ankara and Damascus. Syria's foreign policy went in a much different direction," said Philipp, who believes Syria has always been somewhat reserved when it comes to larger foreign policy actions.
The most recent break between the two states came in 2011. The Turkish government had to decide whether it wanted to continue supporting Bashar al-Assad, its "brother" of many years, or whether it would put its weight behind the opposition. Turkey abandoned its neutral course and took a clear position in support of the opposition movement. The country has called for Assad to step down and protects Syrian opposition members in border areas. Turkey has taken on more than 30,000 refugees from Syria.
"Turkey today is far from playing the role of friendly neighbor to Syria," Philipp said.
Semih Idiz, a journalist specializing in foreign affairs at Turkey's liberal daily "Milliyet," believes Turkey is now positioning itself differently than it has long done in the past.
"By taking a stance in difficult conflicts in the region, Turkey has lost its earlier role," Idiz said in an interview with DW. Turkey's relations with Israel, Iran and Iraq have all gotten worse, as well, Idiz added.
Turkey may get dragged into a war with Syria due to its alliances with unforeseeable consequences
A key question for the Turkish-Syrian relationship is looming: Would Turkey get involved in a military conflict in Syria?
Peter Philipp regards that step as unlikely in light of the 900 kilometer (560 mile) border the two countries share. A war between them could destabilize large regions within Turkey.
However, Turkey could get dragged into a conflict despite its best intentions. Turkey is a member in NATO, while Syria has a defense accord with Iraq. Those alliances could lead the two countries into a conflict with unforeseeable results.
NEWLY SUPPLIED RUSSIAN ANTI-AIRCRAFT MISSILE DOWNED TURKISH MILITARY AIRCRAFT
DEBKAfile Exclusive Report - 23 June. Syria Friday shot down the Turkish Super Phantom jet with the sophisticated self-propelled medium range anti-air Pantsur-1 missile recently supplied by Russia. Short of time to master the improved missile system, the Syrian crews would have called on their Russian instructors to help launch them. DEBKAfile: Moscow and Damascus may have decided to stop the almost daily Turkish air force flights over the Syrian coast for spying on Russian arms deliveries through the Russian bases of Tartus and Latakia.
This would be the first instance in the 15-month Syrian uprising of an advanced Russian-supplied weapon hitting the military target of a NATO member.
FUND FOR ASSISTANCE TO
SYRIAN-ARMENIAN SCHOOLS
In order to provide financial assistance to Armenian schools in Syria, the ARS Central Executive Board announced the formation of the "Fund for Assistance to Syrian-Armenian Schools".
"There is no doubt," declared ARS Central Executive Board Member, Ms. Zepure E. Reisian, "that the unfortunate incidents unraveling in Syria have disrupted the community's normal course of life. The ARS Central Executive Board believes that securing the undisturbed continuity of school life is the best guarantee of maintaining the normalcy of daily existence for Armenian youngsters."
As further explanation of the nature of the Fund, Mrs. Vicky Marashlian, Chairperson of the ARS Central Executive Board, noted that a while back the Society recognized that, as a consequence of the events in Syria, the Armenian Community may suffer social and financial instability. After deliberation, the Central Executive Board concluded that the best approach for the ARS would be to concentrate on helping the Syrian-Armenian schools by allotting funds for "tuitions to needy students", thus alleviating both the financial burden on needy Syrian-Armenian families, and, at the same time, promoting the continuity of the educational mission of the schools.
"The decision of the Central Executive Board to come up with such a Fund is indeed laudable," stated Ms. Anna Der Hagopian, Chairperson of ARS/Syria. "The economic crisis battering the country has inevitably affected the Armenian community as well, and the number of families and scholarship recipients receiving aid from the ARS/Syria social services has doubled over the past year. We are confident that until next September, the ARS family will make every possible effort to assist to the maximum the Syrian-Armenian educational institutions, thus helping the community itself. We have no doubt, also, that Armenian communities worldwide, alongside the global ARS entities, will come to our assistance in other needs as they arise until we finally come out of this crisis," concluded Ms. Der Hagopian.
Donations may be made to the "Fund for Assistance to Syrian-Armenian Schools" through all ARS local chapters and Regional offices, as well as on the ARS, Inc. website (www.ars1910.org). All proceeds will be sent to the ARS/Syria Regional Executive for distribution to Syrian/Armenian schools, in order to alleviate the financial burden on the shoulders of the Syrian-Armenian parents.
ARMENIAN MILITIA GROUP DECLARES
"VOLUNTEER" RECRUITMENT
RFE/RL's Armenian service - Azatutyun.am - A former Armenian paramilitary organisation that had participated in the war with Azerbaijan said on Monday that it has started recruiting new "volunteers" and asked the Armenian military to authorize their deployment on frontline positions.
Smbat Ayvazian, the head of the Metsn Tigran (Tigran the Great) militia, linked the move with this month's upsurge in fighting along Armenia's border with Azerbaijan and around Nagorno-Karabakh. He said the group has sent a letter to Defense Minister Seyran Ohanian asking the army command to assign specific frontline sections to Metsn Tigran fighters and ensure their interoperability with army units deployed there.
"We have not yet received an official reply from the Ministry of Defense," Ayvazian told RFE/RL's Armenian service (Azatutyun.am). "But there has been reaction. They have asked for a meeting with us to discuss how we imagine the course of further action and what steps could be taken."
"I think that there will be a number of such meetings in the next few days," he said.
"This doesn't mean that all the mobilized guys will go to war. This doesn't mean that we are going to war. But we must get ready," Ayvazian added, pointing to the recent skirmishes in the Karabakh conflict zone which left at least nine Azerbaijani and Armenian soldiers dead.
The armed incidents added to mounting concerns about a renewed Armenian-Azerbaijani war. Armenia's armed forces and other state structures are due to hold this week exercises that will simulate a general mobilization for such a war. President Serzh Sarkisian and other Armenian leaders have warned Baku against attempting to end the dispute by force. The Yerkrapah Union, a government-linked group uniting thousands of Armenian war veterans, has echoed that warning.
Hundreds of Metsn Tigran members fought Azerbaijan in the 1991-1994 war for Karabakh alongside volunteer fighters affiliated with other Armenian paramilitary groups as well as regular army units. According to Ayvazian, more than 400 of them have died or left Armenia since 1994. But he refused to disclose the number of the group's remaining members.
"In order to restore our ranks, we decided to call up a mobilization of volunteers," Ayvazian said. "That process has started. Many people are applying and visiting. We admit them … for a three-month trial period. We will then examine them and see."
Ever since the late 1990s, Ayvazian has been better known as a leading member of the radical Hanrapetutyun (Republic) party opposed to both Sarkisian and his predecessor Robert Kocharian. Hanrapetutyun withdrew from Armenia's largest opposition alliance last month, citing serious differences with its leader and another former president, Levon Ter-Petrosian.
Ayvazian denied any connection between the Metsn Tigran initiative and Hanrapetutyun's activities.
HUNDREDS TURN UP FOR
ARMY DOCTOR'S FUNERAL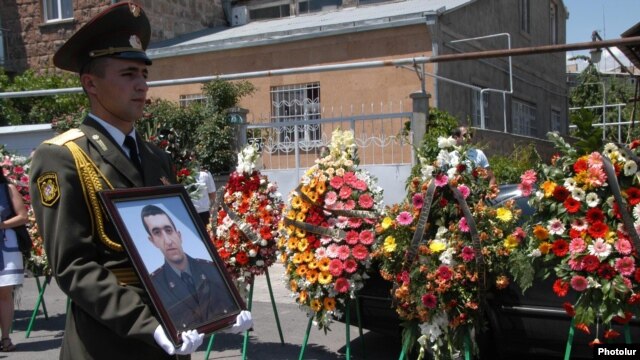 Karlen Aslanian and Ruzanna Stepanian for www.Azatutyun.am - Hundreds of people attended the funeral of an Armenian military doctor on Monday amid continuing public outrage against a government-connected businessman who employed the men accused of beating him to death at a Yerevan restaurant last month.
For the rest of the article click here:
www.armenialiberty.org/content/article/24632958.html
KASSOULIDES, BROK AND SARGSYAN MEET FOR BREAKFAST IN YEREVAN
more details on Gibrahayer Facebook
US AMBASSADOR TO ARMENIA SAYS THAT ARMENIA-TURKEY PROTOCOLS MUST BE
RATIFIED "WITHOUT PRECONDITIONS"
June 28 - YEREVAN - U.S. Ambassador to Armenia John Heffern met on Wednesday with a group of Armenian journalists, participants of "Support to Armenia-Turkey rapprochement" program organised by Eurasia Partnership Foundation and funded by USAID. One of the participants was the Armenian News-NEWS.am correspondent.
The Ambassador answered to journalists' questions on wide range of issues, including the Karabakh peace process, Armenia-Turkey relations and those referring to the parliamentary elections.
Asked about the U.S. attitude towards Azerbaijani aggression taking into account the fact that the US is the only country providing assistance to the Nagorno-Karabakh Republic, the Ambassador recalled the recent statement adopted by the leaders of the co-chairing states in Los Cabos.
"What they said was to reiterate that there is only peaceful solution; there can be no military solution to the Karabakh conflict. They called against violence," he said adding that the same calls were voiced by Secretary of State Hillary Clinton during her recent visit to Armenia in June.
"The three co-chairs in the negotiations are promoting military confidence-building measures, specifically, the withdrawal of snipers from the line of contact and the borders, establishment of mechanism to investigate any incidents. We wish to push for confidence-building measures and we are hopeful that if they are approved it will decrease the violence along the line of contact and on the border," Heffern said.
Speaking about the U.S. assistance provided to NKR he particularly mentioned de-mining and water projects.
As regards Armenia-Turkey protocols to normalize relations, Ambassador Heffern stressed that they "will not give up the protocols and still are pushing very hard on all levels for the protocols to be ratified and implemented."
"Our message to the Turkish leaders has been to ratify and implement the protocols as they were signed without any preconditions. It is our primary goals in terms of Arm-Turkish reconciliation and we will push it on highest levels," he said.
"We are pursuing reconciliation on three levels: first and foremost the protocols, get them ratified and implemented without precondition, the second - promoting and pushing Ankara on meaningful economic measures," Heffern said, brining an example of reopening of Gyumri-Kars car railroad which will also help eastern Turkey and the Armenian and Turkish companies' negotiations on completion of fiber optic cable from Turkey to Armenia.
"The third level is people-to-people exchanges. We have done it in all sectors: parliamentarians, journalists, students and, businessmen. It is important to break the mistrust between the two countries and two peoples and to build a climate and atmosphere which will make reconciliation possible."
Commenting on the U.S. attitude towards the May 6 parliamentary elections, Heffern they tried to assess the elections as objective as possible. Among the positive points he underscored access to media and among the shortcomings - widespread vote-buying, misuse of administrative resources, and favoritism to the government parties in the public sector.
"I was excited to see a spirited debate in the parliament, the opposition parties have taken their seats and there was a strong questioning on government's program in the parliament. It is a good thing, open debate and open competition is good for Armenia's democracy. As to the next elections, we are pushing for continued reforms by the authorities."
The Ambassador also commented on the role of Turkey, as a U.S. ally, in changing situation in the Middle East.
"Turkey is of course an important ally of U.S. and NATO and as an ally we are trying to work with Turkey on every regional and international issue we can. For instance, we are working very close with Turkey trying to resolve the Syrian crisis. Turkey's role is important. However, just because we are allies it does not mean we agree on everything. U.S. and Turkey have vigorous debates. The protocols issue is raised on all levels and we are pushing them to implement and ratify the documents without preconditions, for example Karabakh or others. U.S. supports open borders, diplomatic relations. It will be good for Turkey, for Armenia, for region, and for Karabakh solution."
Answering to a remark whether there is one or more than one obstacle to ratifying the protocols by Turkey, Heffern noted, "I cannot speak for Turkey. What they are publicly trying to do is not a secret. Turkish leaders are trying to link protocols to progress on Karabakh. It is not a part of the deal. Secretary Clinton announced publicly and in meetings with the Turkish leaders that protocols were signed without preconditions."
ARMENIAN AND TURKISH REPORTERS RECEIVE AWARDS IN YEREVAN
Tuesday, June - An award for best column on Armenian-Turkish ties took place in Yerevan in the framework of the 'Support to Armenian-Turkish negotiations' program.

The program is supported by Yerevan Press Club, Eurasia Partnership Foundation, Armenia's Businessmen and Industrialists Association and the International Center for Human Development.
The jury, consisting of 8 members from Armenia and Turkey, presented the award winners. From the Turkish side Yeni Safak newspaper columnist Hilal Kaplan received the award for his 'Our history and the truth' and 'Armenia – the Diaspora if Anatolia' articles.
From the Armenian side [ARF Dashnaktsoutiun affiliated] Yerkir Media TV-station's personal correspondent in Bolis Lilit Gasparyan received the award for her 'The citadel of the fortress' documentary film telling about the Armenian colleges in Bolis.
TURKISH AIRLINES IN GROWTH
By Daniel Dombey in Bolis - The chief executive of Turkish Airlines has set out a goal of building the biggest network of destinations despite grumbles from some quarters about the speed with which the company is growing.
"Very soon we will become the largest network in the world," Temel Kotil, the carrier's chief executive since 2005, said in a Financial Times interview. "The purpose is very clear: like the Silk Road, we are linking everywhere to Istanbul."
It is an ambition closer to reality than at first it might appear. The company says it flies to more locations from a single airport than any other carrier in Europe and is talking to Warsaw about buying a big stake in LOT, Poland's national airline.
Analysts have scratched their heads at the plan to pair up with the lossmaking group, puzzling over how it fits with Turkish Airlines' plans to make Istanbul one of the biggest aviation hubs. Ankara expects the carrier to take a 50 per cent stake in LOT, though Poland cautions that other potential buyers are in talks.
But little, it seems, can hold back Turkish Airlines, which this month began flights to Kigali, Rwanda, to add to destinations such as Mogadishu, Somalia and Misrata, Libya. From its base at Istanbul's Atatürk International Airport, the group flies to almost 200 destinations. The size of the fleet has gone from 100 aircraft in 2006 to 153 in 2010, with a figure of 190 targeted for the end of this year. The airline has sponsorship deals with Barcelona and Manchester United.
The expansion drive of the 49 per cent state-owned carrier fits with Turkey's ambitions as a rising power on the world stage, with growing interest in the Middle East, Central Asia, the Balkans and Africa.
But Mr Kotil insists that the growth drive, which has increased total debt from TL3bn ($1.6bn) in 2009 to almost TL8bn last year, makes economic sense on its own terms.
He does not need to be reminded that hectic expansion has preceded financial problems for many other carriers in the past. But he points out that load factor – the proportion of seats with passengers in them – was more than 77 per cent last month, 6.4 percentage points more than a year before. For the January-April period, the number of business class and international transit passengers grew by 51 per cent and 41 per cent respectively compared with the same period a year before.
"This is huge growth," he says. "This means that we are very heartily growing, although there is a big crisis in Europe, which is our major market."
He adds that the figures are a testimony to two things. One is Istanbul's "perfect" location – three to four hours' flight to most of Europe, the source of some 40 per cent of all international travel. The other is the extent to which the company has been built almost from scratch since 2003, the year he joined, and how it continued to grab market share even as other carriers cut back in 2008-09.
"This was a small, 10m passenger airline, with $1.7bn [in revenues]," he says. "We will have this year hopefully 38m passengers, $7.8bn."
All the same, the company has been labouring under the disadvantages of high energy prices, which contributed to a TL29m loss for the first quarter, despite the company's solid record in generating cash, and pushed the share price steeply down last year.
Turkish executives also complain about delays at Atatürk International Airport, where the three runways, which are not parallel, are sometimes hard pressed to accommodate the volume of flights.
Government plans for a new, third airport in Istanbul, perhaps the largest in Europe, are not yet reality, so existing infrastructure that has to cope with Turkish Airlines' ambitions.
"If you are growing this much, this fast, continuously, you are building difficulties in terms of the operations side of it, you are building difficulties in terms of the management side of this business," Mr Kotil says. The company is stepping up resources for baggage handling and boarding to combat delays.
"We love to grow," he says. "But we can stop the growth if it makes sense for passengers."
The continuity of one of the most widely distributed
e-magazine of the Armenian Diaspora ... is in your hands.
Donations to Gibrahayer e-magazine can be made online by visiting
our website on www.gibrahayer.com and clicking on donate now.
KOHAR App
HAYASA Productions Ltd (Cyprus) is proud to release KOHAR's first iPhone App. Stay connected and be the first to receive updates at ease. Download the official KOHAR iPhone App and listen to your favorite songs, watch videos and preview KOHAR's Concerts through pictures at any time. Be the first to know about concert news, tour dates, promotions, releases and other exclusive information.
Gibrahayer calendar:
► 12th to 29th July - Halkidiki Camp of the Armenian Relief Society (HOM) of Greek Macedonia and Thrace Greece: Arrival in Thessaloniki 12/7: Departure from Thessaloniki 29/07. Age of participants: 10-14. Last date of participation 22nd June. For more information and reservations you can contact the Cyprus Chapter of the Armenian Relief Society (HOM) by calling Louise Aynedjian on 99533684.
► Sunday 29 July starting from 11:00 am in Troodos: "Khanasori Arshavank" and "Lisbon 5" commemoration event and traditional picnic, organised by ARF Dashnaktsoutiun Cyprus Gomideh and affiliate organisations at Platania - Troodos.
► 13-19 August in Troodos - AYF Panagoum. For details and registration email: ayfcyprus@gmail.com or call Sevag Gurunlian 99 202923.
ARMENIAN FISH PRODUCTION TO BE TRIPLED
June 26, 2012 YEREVAN. The Armenian Government has announced a new program through which fish production in Armenia will be tripled, adding that modern technologies and methods for cleaning water and enriching it with oxygen will be applied by the Head of the Animal Husbandry and Breeding Department of the Armenian Ministry of Agriculture.
TURKISH FILM MAKERS GO TO YEREVAN FEST
Bolis - Hurriyet Daily News - June 25 - The International Golden Apricot Film Festival will celebrate its ninth
anniversary in Yerevan, the capital of Armenia. The festival has supported Turkish-Armenian film projects for the last four years and hosted internationally known Turkish directors such as Fatih Akın and Semih Kaplanoğlu. This year's festival will be held between July 8 and 15. One day before the festival the traditional blessing of the new apricot harvest will be held in Yerevan churches. The International Golden Apricot artistic director, Susanna Harutyunyan recently spoke to the Hürriyet Daily News. Harutyunyan said this year a guest of honor would be Spanish film director Victor Erice. Harutyunyan said they would show films by five Turkish and five Armenian directors in the festival's Turkey-Armenia Cinema Platform section.
This year director Özcan Alper, who is well known for his film "Sonbahar" (Autumn), and documentarist Enis Rıza will be guests of honor from Turkey at the festival. Harutyunyan said the festival would invite and host Turkish journalists for the first time this year. During the festival, 150 films will be shown and they will have a special program of Turkish films. Harutyunyan said Armenian viewers had an interest in Turkish films and added: "Directors are always welcome to present their films to the audience and directors from Turkey attract quite a lot of attention from the Armenian public. A good example was 'Once Upon a Time in Anatolia' last year." Harutyunyan said they were collaborating with the International Istanbul Film Festival and the nongovernmental organisation Anadolu Kültür (Anatolian Culture) from Turkey.
Our answer to the mood of intolerence in Armenia & across the world