ISRAEL SEEKING ACCESS TO CYPRUS AIR FORCE BASE TO
PROTECT GAS DEPOSITS AND RENEWED TURKISH THREATS
Gibrahayer e-magazine Thursday 9 February – Nicosia - Military sources confirmed today the interest of Israel to use the Cypriot Air Force Base in Paphos, in order to protect the gas deposits of the Mediterranean.
The Jerusalem Post reports that Israeli Prime Minister Benjamin Netanyahu will raise the issue during his official visit to Cyprus on 16 February.
Last month the Israeli Defence Minister Ehud Barak met with his Cypriot counterpart Demetris Eliades, during which two military agreements were signed aimed at strengthening defence cooperation between the two countries to counter-act against renewed Turkish threats after huge gas deposits were announced by Houston-based Noble Energy in Plot 12, off the Cyprus south seas.
SARKOZY TO FILE NEW DRAFT IF BILL IS
REJECTED BY THE CONSTITUTIONAL COUNCIL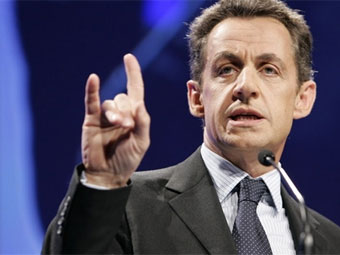 AFP, Gibrahayer and other combined services - February 2011 - President Nicolas Sarkozy will immediately submit a new draft of a law punishing denial of the Armenian Genocide if France's top judicial body rejects it, two Ministers told Agence France Presse last week.
"The President told us in cabinet that he would immediately submit a new draft if there is a rejection by the Constitutional Council" of a bill approved recently by the French Parliament, said one of the Ministers, who spoke on condition of anonymity.
Another Minister said Sarkozy had also criticized those in cabinet who had opposed the bill, saying they "did not see past the ends of their noses".
He said a rejection of the bill by the Constitutional Council could open the door to questioning a law that penalizes denial of the Holocaust.
After being approved by the National Assembly and Senate, the law was put on hold Tuesday after politicians opposed to the legislation demanded that its constitutionality be examined.
Two separate groups of French politicians who oppose the legislation -- from both the Senate and the lower house -- said they had formally requested the Constitutional Council examine the law.
The groups said they each had gathered more than the minimum 60 signatures required to ask the council to test the law's constitutionality.
The council is obliged to deliver its judgment within a month, but this can be reduced to eight days if the government deems the matter urgent.
Turkey reacted furiously last week when the Senate approved the law, which threatens with jail anyone in France who denies that the 1915 massacre of Armenians by Ottoman Turk forces amounted to Genocide.
France has already officially recognized the killings as a Genocide, but the new law would go further by punishing anyone who denies this with up to a year in jail and a fine of 45,000 euros.
Ankara has already halted political and military cooperation with France and was threatening to cut off economic and cultural ties.
Trade between the two states was worth 12 billion euros, with several hundred French businesses operating in Turkey.
TURKISH PREMIER EXPRESSES HIS GRATITUDE TO FRENCH SENATORS
1 February 2012 - AA - Turkish Prime Minister Recep Tayyip Erdogan said on Tuesday that he would like to express his gratitude to French Senators who signed to appeal the law penalizing denial of the Armenian allegations on the Ottoman era incidents of 1915 adopted at the French Senate.
Signatures of 65 MPs and 72 Senators have been collected to appeal the law at the French Constitutional Council.
Replying to questions of reporters, Erdogan said that he believed that Senators and MPs did what should be done.
French Senators appealed the law at the French Constitutional Council on Tuesday.
The council is expected to make public its decision within a month.
The law penalizes denial of the Armenian allegations with a prison term of one year and a fine of 45 thousand euros.
From Lucine Kasbarian
IT IS NOT GAME OVER IN FRANCE
SAYS ARF DASHNAKTSOUTIUN
2 February - Photolure -
ARF Dashnaktsoutiun has released a statement expressing its concerns that a bill criminalizing Genocide denial in France has not been signed into law, more than a week after it passed the Senate.
"French President Sarkozy could have signed, and turned into a law, the bill that criminalizes the denial of genocides [including the Armenian Genocide], but he preferred to wait until the statutory deadline, and this enabled for the bill's opponents to get active and appeal to the Constitutional Council," says the statement put out by the party's Political Affairs and Armenian Cause Office.
"The Constitutional Council could adopt one of the three possible decisions:
1) The bill is consistent with the Constitution. In this case, it will become a law once the Republic's President signs it.
2) The bill is partly inconsistent with the Constitution. In this case, the bill will be returned to the National Assembly, to amend it and make it consistent with the Constitution. This option could cause problems, since the National Assembly will go on vacation, in one month, to prepare for the presidential elections.
3) The bill is wholly unconstitutional. In this case, the bill will no longer be discussed and it will not become a law, unless the Republic's President requests that the matter enter the National Assembly yet again.
"Starting from today until for one month, until the Constitutional Council reaches a decision, President Sarkozy cannot sign the law."
HEAD OF THE EU PARLIAMENT RECOMMENDS
TURKISH MINISTER TO FACE HISTORY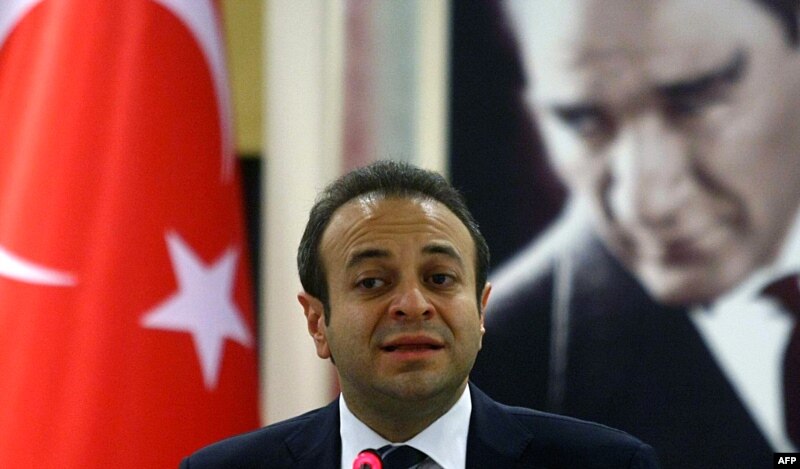 February 08, 2012 - President of the European Parliament Martin Schulz met with the Turkish Minister for the EU Affairs and Chief Negotiator Egemen Bagis. The official discussed the role of Turkey in Syria, the visa regime and the prospective for Turkish membership in EU. Bagis and Schulz also commented the Armenian Genocide and the new bill adopted by the French Senate.
Egemen Bagis refused to answer a question about the investigation launched by Switzerland for his remarks denying the Armenian Genocide. During the press conference in the European Parliament Bagis said: "Switzerland is not member of the EU and I will not spend one second to talk about non EU issue".
Martin Schulz underlined the clear position of the European Parliament, which in a resolution in 2005 called on "Turkey to recognize the Armenian genocide and considers this recognition to be a prerequisite for accession to the European Union."
"As a German I know also the history of my own country and the role the imperial army of Germany played in previous time. Nevertheless, my recommendation to the Turkish authorities is today the same as it was in previous times. You should face your own history and you should allow independent inquiries about your history.
If the independent inquires come to the conclusion that it was Genocide, you should recognize it. But I think it's first up to Turkey to solve the problem. I respect the parliamentarian autonomy and the independence of the French Parliament and I respect the law adopted in France. I know that there are a lot of people in the European Union sharing the views of the French Members of the Parliament," Schulz added.
TSVETANA PASKALEVA IN CYPRUS
SHOWING THREE OF HER FILMS
(total showing time 1 hour)
dedicated to the national liberation struggle of Karabakh
24 FEBRUARY at 7:30
University of Nicosia (Intercollege)
'KARABAKH WOUNDS'
Organisers of the event are: The Armenian National Committee of Cyprus, The Pancyprian Committee of Refugees and The Office of the Armenian MP.
The film will be followed by a Question and Answer session by Tsvetana Paskaleva
About Tsvetana Paskaleva: She received various prizes at several international film Festivals. Although Paskaleva had never bore arms and carried only her camera during the war, she received the rank of Karabakh Defence Army Colonel in 1995 and a Medal for Courage from the Armenian Government in 1996.
ARTSAKH PRESIDENT AT PASKALEVA EVENT
On 7 February President of Artsakh Bako Sahakyan took part in the presentation ceremony of documentary film series "Karabakh's Wounds" directed by the famous Bulgarian journalist Tsvetana Paskaleva at the Stepanakert Palace of Culture and Youth. The President highlighted Paskaleva's devotion and long-term objective presentation of the Artsakh national-liberation movement. According to Bako Sahakyan the film series "Karabakh's Wounds" the best chronicle of the Artsakh liberation struggle and it carries an important mission in bringing our voice to the international community, helping them to have a just and comprehensive idea about Karabakh.
Also present at the event were the Head of the Artsakh Diocese of the Armenian Apostolic Church Archbishop Pargev Martirosyan, the Chairman of the National Assembly Ashot Ghoulyan and other high ranking officials.
The event in Cyprus will take place on Friday 24 February at 7:30 pm at The University of Nicosia (Intercollege). Two of Paskaleva's films will be shown and she will also address the Cypriot audience.
HRANT DINK "HEART OF TWO NATIONS"
by NOURITZA MATOSSIAN TO BE SHOWN IN NICOSIA
MONDAY 13 FEBRUARY at 8:00pm
University of Cyprus, Room EB107, Old Campus, New Wing
Organisers of the event are: The Armenian National Committee of Cyprus and The Turkish Studies Department of the University of Cyprus.
The film will be followed by a Question and Answer session by Dr. Nouritza Matossian as well as The Head of the Department Dr. Niyazi Kizilyurek.
Nouritza Matossian's biography
Nouritza Matossian from Cyprus was educated in England. She read Philosophy at Bedford College, London University; music at Darmstadt; theatre and dance at Dartington College (1976-79), Jacques Le Coq, School of Mime, Paris (1980-81). The author's comprehensive biography of the leading American artist, Black Angel, A Life of Arshile Gorky, by Chatto and Windus, Random House UK, was launched in 1998 to critical acclaim. Nouritza Matossian gave the first of a series of one-woman shows about the life of Arshile Gorky at the Royal College of Art, London, 1998, repeated by popular demand with a show at the Barbican, The Brighton Festival and in Cyprus. The New York premier at the Player's Club on May 19th was a standing room only. She is also the author of the first biography and critical study of the Greek composer Ioannis Xenakis. Xenakis, Fayard (Paris 1982), Kahn and Averill (London 1987, paperback 1992) has established Matossian as one of the world's leading experts on Xenakis. Matossian co-produced a 50-minute documentary on Xenakis' life and work Something Rich and Strange, BBC2, in 1992. Writer and broadcaster on music and the arts, food, travel and Armenia, she has also organized arts festivals in England and Cyprus. She features for the Observer, The Independent, The Economist, Vogue, Harpers & Queen and specialist music publications.
Matossian also lectures, and broadcasts on BBC Radios 3 & 4.
Funeral - Hayrabed Torossian - Saturday 11 February at 2:00 pm
IN LOVING MEMORY
Hayro, my brother,
Sorrow is an inseparable part in life as it is for love. There is no life without love and there is no love without sorrow.
This week we live with that triangular experience.
Family, friends, colleagues and students will soon bid you farewell with that deep sorrow in their hearts and tears in their eyes for a soul they loved and respected so so much.
It is often said, "what's the use of winning the world if the price is to lose your self".
Today, Hayro, you lose the world but win your self, because you enriched your life with sincerity, simplicity, honesty, conscientiousness, compassion, respect, love and not the least with dedication and sacrifice.
These virtues and characteristics of your personality (alas fast retreating in this materialistic, selfish and violent world) mixed with the romanticism of your musical and teaching career and your exemplary devotion to your family and friends will be a shining and upright monument on your grave.
You will be missed, Hayro, very very much.
May God bless your soul and may you rest in eternal peace.
Vartan Tashdjian
DASHNAKTSOUTIUN CYPRUS GOMIDEH
CONTINUES YOUTH OUTREACH PROGRAM
News in Brief by Sevag Devletian
Bulgaria's Parliament did not support the fifth consecutive attempt on behalf of the far-right Ataka (Attack) party to pass a declaration recognizing the Ottoman Empire's Genocide against Armenians (1915-1922). On Wednesday, Ataka leader Volen Siderov pointed out that it was completely normal for "a patriotic party like his" to support the recognition of the Armenian Genocide. Lyutvi Mestan, a key MP from the ethnic Turkish Movement for Rights and Freedoms party, opposed Ataka's suggestion, stating that the Parliament was not an institution that should determine historical truths as the highest instance.
During the discussions over the Armenian Genocide at the Israeli Knesset, Parliamentarians wanted to address a message to Turkey with their speeches. "Do not give us lessons of morality," Israel's former Defence Minister Benjamin Ben-Eliezer stated in an interview given to APA, referring to the possible developments of the Israeli-Turkish and Israeli-Azerbaijani relations in case of recognition of the Armenian Genocide. "The topic of the Armenian Genocide only concerns the relations of Israel with Turkey, as Israel is not very satisfied with the policy assumed by the current authorities of Turkey," Ben-Eliezer said, pointing out that Azerbaijan has no connection with the discussion of the Armenian Genocide issue in Israel.
Turkish publisher and human rights activist Ragip Zarakolu has called upon his country's Parliament to recognize the Armenian Genocide. Jailed in October amid the anti-Kurdish operations in Turkey, the activist has asked his lawyer to submit to the Grand National Assembly a petition to acknowledge the Genocide ahead of its 100th anniversary. "It's more than clear," he said. "The Republic of Turkey is the successor of the Ottoman Empire. It is necessary to apologize for the 1915 Genocide, and the subsequent policies of deportation and assimilation. From the moral standpoint, it is the duty of Turkey's, not other countries' Parliaments not to make such apologies" he said, noting that 2015 marks the 100th anniversary of the tragic events.
ABCNews.com removed a segment of a feature that recommended traveling to Nagorno-Karabakh as one the "Great Offbeat Places to Go in 2012." In a travel segment posted on Sunday on abcnews.com entitled "7 Great Offbeat Places to Go in 2012" ranked Nagorno-Karabakh as one of the places to visit during the year. On Tuesday afternoon, however, the piece was re-titled "6 Great Offbeat Places to Go in 2012" and the section on Nagorno-Karabakh was extracted from the original.
Associate Professor Taner Akcam, the Robert Aram, Marianne Kaloosdian and Stephen and Marion Mugar Chair in Armenian Genocide Studies, was interviewed by the BBC's Zeinab Badawi regarding a French bill that would criminalize denial of the Armenian Genocide. The interview aired live during the World News Today program. Watch it here - www.youtube.com/watch?v=MpJrkZd3JhM .
Members of the Armenian National Committee of Cyprus completed a series of meetings with European Members of Parliament, discussing areas of mutual concern in promoting Cyprus and Armenian issues in European forums and in better co-ordinating their efforts.
Community calendar at a glance:
Saturday 11 February -

Valentine's Dinner Dance organised by Hamazkayin Cultural and Educational Association's "Oshagan" Cyprus Chapter. Enjoy a beautiful buffet prepared by Sevan Der-Bedrossian. A special guest will entertain us on his accordion. Lots of other

surprises. Entrance 15.00 euros. For reservations please call Shoushig Bakalian on 99667828 or any member of the Committee. You can also make your reservation by emailing

hamazkayincyprus@yahoo.com

.

Monday 13 February at 8:00 pm - Hrant Dink "Heart of Two Nations" by Armenian Cypriot author and film Director Nouritza Matossian will be shown in Nicosia at The University of Cyprus, Room ΕΒ107, Old Campus, New Wing. The event is being organised by the Turkish and Oriental Studies Department and The Armenian National Committee of Cyprus in memory of Hrant Dink. Dr. Nouritza Matossian as well as The Head of the Department Dr. Niyazi Kizilyurek will talk about Hrant Dink and take questions from the audience.

Tuesday 14 February - Champions League Night at AYMA: Lyon vs Apoel.

Saturday 18 February from 3:00 – 6:00 pm - Nareg school Carnival Party at Nicosia Nareg Hall.

Saturday 18 February at 9:00 pm - Carnival Party organised by Homenetmen - AYMA.

Friday 24 February at 7:30 pm -

Award winning journalist and film director Tsvetana

Paskaleva's films will be shown to Cypriot audiences with an event organised by the Office of The Armenian Representative, The Armenian National Committee of Cyprus and The Pancyprian Committee of Refugees. Tsvetana Paskaleva will address the event and answer questions from the audience.

Sunday 11 March - Armenia on stage organised by the Office of the Armenian Representative.

Wednesday 14 March - Kravadz Or. Literary evening organised by the "Oshagan" Cyprus Chapter of Hamazkayin Cultural and Educational Association. Details to follow.
Sunday18 March at 1:00 pm - Michink Lunch, at Homentemen - AYMA - organised by the Armenian Relief Society (HOM) "Sosse" Cyprus Chapter. Details to follow.
Saturday 31 March - Armenian Relief Society (HOM) "Sosse" Cyprus Chapter's Easter Fund-Raiser. Details to follow.
Sunday 8 April - Kravadz Or by the Larnaca Hay Agoump. Details to follow.
Saturday 5 May - Kravadz Or by Hamazkayin Cultural and Educational Association's "Oshagan" Cyprus Chapter.
Saturday 12 May - Kravadz Or by Hamazkayin Cultural and Educational Association's "Oshagan" Cyprus Chapter.
Sunday 13 May - Pilgrimage to St. Magar Monastery organised by the Office of the Armenian Representative.
Gibrahay Sports by Sevag Devletian
Following a humiliating 10-0 defeat to arch rivals Omonia in the Cyprus Futsal Premier League, AGBU Ararat bounced back with a 1-0 win against Parnassos Strovolou, 4-3 win against City Futsaland a 6-2 win against AEL Limassol. In the meantime, AGBU Ararat announced the departure of head coach Athos Stilanos and the Ararat Central Committee has appointed Sergio Nazaretian as a replacement.
Homenmen suffered 2 consecutive losses in the Cyprus Futsal 3rd Division with a 2-5 defeat against ESP Episkopis Panayiotis Toumazou and a 14-2 defeat against Apeleftherosi.
After suffering a 1-5 defeat against Omonia U-21's, AGBU Ararat U-21's were victorious with a 5-6 win against Ena Athienou U-21's, a 8-4 win against Apeleftherosi U-21's and a 9-1 win against Aetos Galata U-21's.
AGBU Ararat U-17 's registered 2 wins and 2 losses, with a 8-2 win against City Futsal U-17's, 9-1 win against Ena Athienou U-17's, 10-2 defeat against Parnassos Strovolou U-17's and a 2-4 defeat against SPE Strovolou U-17's.
HMEM/AYMA's Bowling team defeated Markos Drakos 3-1 to claim the Winter Champions title of the Cyprus Bowling Federation 3 Division.
HOMENETMEN - AYMA BOWLING TEAM, TOP OF THE LEAGUE
A.Y.M.A. formed an all Armenian Bowling team to compete in the 3rd division of the Cyprus Bowling League. AYMA is currently standing at the top of the league with 2 points difference.
With 16 games already played in the current season, AYMA's outlook seems promising since the Armenian team has comfortably won its main rivals for the title.
The team consists of 7 members starting with the Captain Vartan Gostanian, Haig Gostanian, Petros Gostanian, Chant Shekerdemian, Mike Gostanian, Jerry Sarkisian & Yervant Bohdjalian.
Team Captain Vartan Gostanian and member Petros Gostanian are currently standing top 3 in the Highest Average of the 3rd division with 188 and 182 respectively.
The team has also achieved the 2nd highest team scratch with 981 pins.
The games take place every Monday at 7.45pm at Engomi bowling center, any supporters are welcome to come and watch.
Davis Cup: Cyprus vs Morocco this weekend
Armenian Sports by Sevag Devletian
FOOTBALL: On February 29 2012, the Tsirion Stadium in Limassol will host the Armenian National Football team with a friendly against the Canadian National Football team.
BOXING: Former IBF middleweight champion Arthur Abraham will return to the ring on March 31 at the Sparkassen-Arena in Kiel, Germany. "King Arthur" will face an opponent to be named in what is being called a dress rehearsal for a world title fight.
FOOTBALL: Ukraine's FC Kryvbas is looking to sign Armenian national team central fullback Robert Arzumanyan to strengthen the squad's defensive line. Arzumanyan is currently on loan with Poland's Jagiellonia FC.
CHESS: From September 24-October 13, Armenian grandmaster Levon Aronian will participate in Chess Grand Slam 2012, to be held in Bilbao, Spain.
WRESTLING: Armenian Greco-Roman wrestlers grabbed 4 medals at Dan Koloff Nikola Petrov International Wrestling Tournament ongoing in Sofia, Bulgaria. Aram Julfalakyan beat Hovhannes Varderesyan (both 66kg) to win a gold medal in the final. Varderesyan respectively gained silver to come 2nd. Both Arthur Mkrtchyan (60kg) and Hrach Hovannisyan (84kg) secured bronze medals, while Tigran Sahakyan (84 kg).
BOXING: WBC Silver junior middleweight champion Vanes Martirosyan (32-0, 20 KO's) retained his World Boxing Council title on Saturday, Feb 4 night, stopping his badly over-matched 41-year-old challenger Troy Lowry (28-12, 17 KO's) in the 3rd round of a scheduled 10 round.
BOXING: Armenian boxer Arthur Abraham (33-3, 27KOs) stopped Argentinean Pablo Farias (19-2, 11KOs) in the fifth round to capture the vacant WBO European super middleweight title.
FOOTBALL: Armenian forward Marcos Pizzelli, who played for Ukraine's Metallurg in 2011, has signed a 3-year contact with Russia's Kuban FC.
FOOTBALL: Armenian national team full back Hrayr Mkoyan has joined PFC Spartak Nalchik.
BOXING: Armenian boxer Vic Darchinyan, currently 0-2 in bantamweight world title bouts, will try to reverse his 118-pound fortunes in a third crack at a world title. Darchinyan, who turned 36 last week, will challenge Japanese Shinsuke Yamanaka in Tokyo on April 1 2012.
TENNIS: Former world number three, Argentina's David Nalbandian defeated Finland's Jarkko Nieminen in the first round of the Australian Open on Monday January 16, but lost to American Isner in five sets, on a day that also saw the exit of Cypriot champion Marcos Baghdatis in four sets against Stanislav Warwinka of Switzerland. A week later Baghdatis won his first doubles trophy at the Croatian ATP, paired off with Michael Youzhny.
FOOTBALL: Armenia is ranked 95th in the list of worlds strongest national football leagues 2011 presented by the International Federation of Football History and Statistics IFFHS). Armenia surpasses Azerbaijan, Bosnia and Herzegovina, Turkmenistan, Wales and another 23 countries.
GYMNASTICS: Europe's 2010 youth champion Arthur Davtyan has qualified for 2012 Summer Olympic Games after coming 12th in London-hosted Olympic gymnastics test event. Scoring 84,2 points, the 19-year old champion gained the right to participate in the upcoming Olympics.
ARMENIAN YOUTH ASSOCIATION FOOTBALL CLUB
Established for 47 years. AYA are currently recruiting new players aged 11-16. Training will be run by level 1 F.A certified coaches (CRB checked) making training fun, helping the development of young Armenian players, strengthening the community and it's completely free!
If you are interested please contact 07904-782-677 and ask for Alex Ohanessyan.
MELKONIAN MEMORIAL
Coming up in March
Taline and Friends in Cyprus
click her for more images:
https://www.facebook.com/Gibrahayer#!/media/set/?set=a.312687382107576.76800.185812434795072&type=1