The largest circulation Armenian e-magazine
Circulates every Thursday. Established in 1999
You can read the latest issue at www.gibrahayer.com
PLOT 12 ESTIMATED AT
450 BILLION DOLLARS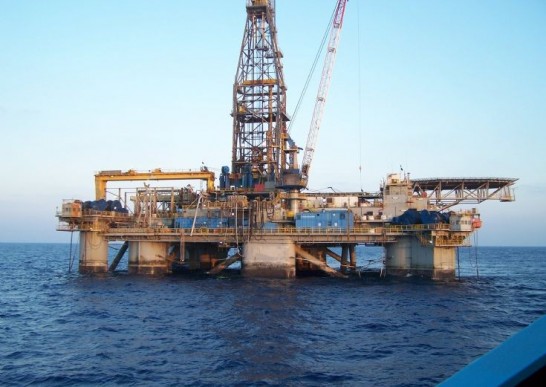 Gibrahayer e-magazine Tuesday 12 December, 2011 - Nicosia - "The wealth that can be extracted from Plot 12 of the exclusive economic zone of Cyprus surpasses 450 billion dollars".
These are the estimates of Michalis Economides, Professor at the Cullen College of Engineering of the University of Houston - Texas.
According to the professor's evaluations, the per capita wealth of every Cypriot will double in the immediate future and eventually quadruple.
He also said that according to his evaluations Plot 12 also holds 3.7 billion barrels of oil.
In comments made to Cyprus media, Economides said that Cyprus should not exclusively depend on Russia and its political leadership should exhibit more

seriousness

in dealing with the natural wealth.
Meanwhile in Cyprus, the public are waiting from Minister of Chamber of Commerce, Industry and Tourism Praxoulla Antoniadou to announce the findings from Noble Energy, that are being delayed by two weeks, as a result of technical difficulties experienced on the rig.
The official announcement is expected before Christmas.
IRAN DOWNS US SPY AIRCRAFT
Gibrahayer e-magazine - Nicosia 4 December, 2011 - Al-Alam channel reports that a US-made unmanned RQ-170 reconnaissance and spy aircraft was shot down by Iranian anti-aircraft fire in the east side of Iran.
The remnants of the aircraft - which did not sustain serious damages - were confiscated by Iranian military authorities.
Similar aircraft that are often used by US forces were responsible for the operation that killed Osama Bin Laden.
Iran downed the US aircraft during the riots at the British Embassy of Iran, soon after the announcement that London was moving forward with sanctions against the central Bank of Iran.
Military sources warned the US that Iran would not limit its response against the US only in the air space of Iran.
US sources said that they were not aware that an aircraft had been downed.

CYPRUS HAY TAD MEMBERS IN BRUSSELS
Gibrahayer e-magazine - Nicosia 4 December, 2011 - Members of the Armenian National Committee of Cyprus (Hay Tad Committee) Jaco Karoghlanian and Garen Kouyoumdjian are leaving for Brussels this weekend to participate in a round-table discussion on Artsakh, that is jointly being organised by the European Geopolitical Forum (EGF) and the European Armenian Federation on 8 December, in which activists from all over the world will participate.
Karoghlanian and Kouyoumdjian will also use the opportunity to familiarise themselves with international bodies and European organizations in Brussels.
SPECIAL ARMENIAN MENU
THURSDAY, FRIDAY & SATURDAY
8, 9, 10 DECEMBER
FULL LULE KEBAB MENU
including two side dishes, & Armenian wine
only 8.90 euros per person
Reservations: 96811747 & 22730088
ARS (HOM) CYPRUS CHAPTER AT THE STASSIKRATOUS PARTY AND FUND-RAISER
Gibrahayer e-magazine - Monday December 5 - Nicosia - The Armenian Relief Society's Cyprus "Sosse" Chapter participated in the Stassikratous Street Bazaar, on Sunday 4 December, 2011 and raised funds for its humanitarian projects in Armenia, Artsakh and Cyprus. You can view 113 images of the street party and the fundraiser here:
www.facebook.com/media/set/?set=a.285032148206433.71676.185812434795072&type=1
Click here for 113 images from the event or click on the following link:
www.facebook.com/media/set/?set=a.285032148206433.71676.185812434795072&type=1
News in Brief by Sevag Devletian
Armenian President Serzh Sargsyan will visit Marseille, France, where he will attend the 20th Congress of European People's Party on December 7-8. According to Nouvelles d`Arménie, President Sargsyan will also visit the city administration on invitations of Mayor Jean-Claude Gaudin. The Armenian delegation will include Foreign Minister Edward Nalbandian and a number of high-ranking officials.
The topic of 1937-1938 massacres in Dersim (today's Tunceli, Turkey) has been transferred to television broadcasts. Turkey's pro-government Beyaz TV Company's program host Nagehan Alci caused great discontent in Turkey because of her bold statements. On live broadcast, the courageous host defined what occurred in Dersim as genocide and this received a quick reaction from the program's moderator and guests. The moderator noted that the "genocide" term is dangerous, since Turkey is battling for long years against recognition of the Armenian Genocide. "Like a calamity, the Armenian Genocide problem hangs down Turkey like a sword, every year," the moderator said. And in response, Nagehan Alci stressed that the events in 1915 were a shame and that if Turkey had sensibly faced those events a long time ago, it would not have found itself in such situation.
Cyprus has backed down on opposing an invite to Turkish Foreign Minister Ahmet Davutoglu to discuss developments in Syria with EU foreign ministers in Brussels after coming under "tremendous pressure" from major EU powers. Davutoğlu harshly criticized the European Union on Thursday, December 1, for its decision not to invite Turkey for talks on Syria, saying the 27-nation bloc bowed to pressure from a "capricious" small country.
The French government will pay up to 2,000 euros to each refugee rejected the right of residence, if they voluntarily agree to return to homeland, French Le Monde paper says. According to French Interior Minister Claude Gueant, it is a way to prevent cases when those having no right to residence join the crowd of illegal immigrants. 60 000 asylum applications will be considered by year end. Gueant noted that priority will be given to migrants from Bangladesh and Armenia, majority of refugees being from these countries.
One of the most popular dishes of the Armenian ethnic cuisine, harisa, has appeared this week on the UNESCO list of world heritage as a Turkish national dish called Keshkesk. The news has outraged many in Armenia. Sedrak Mamulyan, heading Development and Preservation of the Armenian Culinary Traditions NGO, says harisa can absolutely not be Turkish. "We have had two kinds of harisa: the harisa itself and kashika, which has been transformed by the Turks into keshkesh. Kashika is cooked in a tonir (cylindrical clay oven), and the fact that only Armenians have had in-ground tonirs excludes the possibility of this dish being Turkish. Turks never had tonirs," he says.
Georgia's "Candy" band with its "Candy Music" won the Junior Eurovision 2011 song contest in Yerevan with a total of 108 points. The Netherlands came second with 103 points, followed by Belarus with 99 points. Armenia's entry "Welcome To Armenia" ranked fifth place.
The Armenian hacking group Hamazoosp Hacking has attacked one of Azerbaijani media organizations sonxeber.az. By such an attack Hamazoosp responded to the Azeri hackers' over 100 attacks on Armenian websites, conducted on November 27-28. The Armenian hackers have created a new page in sonxeber.az posting former head of Azerbaijan's interior troops Fahmin Hajiyev's words naming Heidar Aliev as perpetrator of Khojaly events.
SOURP ASDVADZADZIN CHURCH CELEBRATES 30 YEARS WITH CHOIR CONCERT IN THE PRESENCE OF HIS HOLINESS CATHOLICOS ARAM I OF THE HOLY SEE OF CILICIA
Gibrahayer e-magazine 5 December 2011 - A concert marking the 30th anniversary of the Sourp Asdvadzadzin Church of Nicosia took place in the church on Thursday, 1st December, with the church choir under Nara Sarderian performing sacred hymns and secular songs from the classical Armenian repertoire.
His Holiness Aram I, Catholicos of the Holy See of Cilicia, honoured the concert with his presence. A pastoral letter by His Holiness on the occasion of the 30th anniversary of the Sourp Asdvadzadzin Church of Nicosia was read at the end of the concert and in his address to the audience, His Holiness congratulated the choir and its leader for their performance. He also praised all those who had worked hard for the realisation of the concert.
His Holiness and His entourage also visited the Nareg school, met with the School Board and teachers and attended a special performance by the school choir.
For more images of the event please click here:
www.facebook.com/media/set/?set=a.284832301559751.71651.185812434795072&type=1
URGENT APPEAL FOR A CHEMOTHERAPY DOSAGE CYCLE
The medication for a chemotherapy cycle for a patient in Armenia has been found both in Athens and in Nicosia and friends in Lebanon, Armenia, Cyprus, Greece and London are trying to raise 1,616 euros.
We would like to thank subscribers that have already started contributing.
Have you?
Pls send your pledge. Click here
You can also contribute online by visiting www.gibrahayer.com
Community calendar at a glance:
Thursday 1 December at 7:30 pm - 30th anniversary choir concert of Sourp Asdvadzadzin Church, conducted by Nara Sarderian, under the auspices and presence of His Holiness Aram I, Catholicos of the Holy See of Cilicia.
click here to view images of the event.
www.facebook.com/media/set/?set=a.284832301559751.71651.185812434795072&type=1
Sunday 4 December - HOM (Armenian Relief Society) Cyprus Sosse Chapter's Stassikratous street Bazaar for humanitarian projects in Armenia, Artsakh and Cyprus.
click here to view 113 images from the event.
www.facebook.com/media/set/set=a.285032148206433.71676.185812434795072&type=1 .
Saturday 10 December at 6:00 pm - Opening of Exhibition of Armenian Books at The Utudjian Hall of The Armenian Prelature. Remarks by Avedis Poshoghlian. The exhibition will also be open to the public until 20 December every day from 9:00 am to 1:00 pm and from 11:00 am to 1:00 pm every Saturday and Sunday.
Wednesday 14 December at 8:00 pm - Lecture by Yervant Khachatryan organised by The Armenian Prelature and Hamazkayin's "Oshagan" Chapter. Dinner at Homenetmen - AYMA catered by Sevan: Entrance fee: 10 euros.
Sunday 25 December at 9:00 pm – Homenetmen - AYMA Christmas Ball.
Sunday 1 January 2012 – Santa will be visiting Homenetmen - AYMA. Details to follow.
Saturday 21 January 2012 - Homenetmen AYMA presents "Taline & Friends". Details to follow.
Saturday 11 February 2012 - Kravadz Or by Hamazkayin Cultural and Educational Association's "Oshagan" Cyprus Chapter.
Sunday 4 March 2012 - Michink event of The Armenian Relief Society Cyprus "Sosse" Chapter at Homenetmen - AYMA.
Sunday 11 March 2012 - Kravadz Or - Office of the Armenian Representative.
Saturday 31 March 2012 - Armenian Relief Society (HOM) "Sosse" Cyprus Chapter's Easter Fund-Raiser. Details to follow.
Saturday 5 May 2012 - Kravadz Or by Hamazkayin Cultural and Educational Association's "Oshagan" Cyprus Chapter.
Saturday 12 May 2012 - Kravadz Or by Hamazkayin Cultural and Educational Association's "Oshagan" Cyprus Chapter.
Erebuni Restaurant
Oriental Night with Belly Dancing
Wednesday 14 December 9:30pm
14 dishes at 14.99. Reservations at 96811747 & 22730088
FOR RENT
Two Bedroom Apartment - 1 Democritos Street, Flat 5 - Ayios Dhometios - Tel. 22493560 (mornings only)
Flat on complete floor (220 sq.m). 3 Bedrooms with big verandas, big lounge, 2 WC's, Storage heating, covered parking facility, fully painted, quiet neighbourhood.
Rent 700 Euros. Telephone on 99643702 or 99878878.
You can now also order online on
www.armenaki.com
Armenian Sports by Sevag Devletian
BOXING: Using his height and reach advantage with effectiveness, WBA Super World bantamweight champion Anselmo Moreno (32-1-1, 11 KO's) won a fairly wide 12 round unanimous decision over 35-year-old Vic Darchinyan (37-3-1, 27 KO's) on Saturday. Darchinyan has now lost two out of his last four fights.

FOOTBALL: February 29, 2012 was confirmed as Armenia-Belarus friendly date, however, Turkey won't be hosting the game, contrary to earlier reports. At a press conference the Football Federation of Armenia announced its refusal to play in Turkey, calling the venue unsuitable.

FOOTBALL: N.E.C. Dutch football club is interested in signing on Pyunik Armenian Premier League club forward Edgar Manucharyan, who currently plays for Ural Ekaterinburg Russian First Division club.

FOOTBALL: Armenia must get past Belgium, Spain and Italy if they are to qualify for the UEFA European Under-19 Championship in Estonia in July after the elite round draw was made for the games in May.

FOOTBALL: The journey to the 2013 UEFA European Under-17 Championship in Slovakia has begun with the draw for the qualifying round. Seven teams will join hosts Slovakia in the final tournament, but before that the 52 hopefuls compete next autumn for 28 elite round places. Armenia was drawn into Group A along with Serbia, Belarus and Moldova. The group A matches are due Sept 25-30 in Serbia.

WEIGHTLIFTING: Due to injuries, Armenian weightlifters will not participate in the IWF Grand Prix President's Cup, to be held on December 16-18 in Belgorod, Russia.

BASKETBALL: Mike Danielian will soon begin his professional basketball career with the Wolfenbuettel basketball team of Wolfenbuettel, Germany. Danielian rose to prominence under Coach Howard Levine at Grant High School in Van Nuys, CA. Under Levine, Danielian was twice named to the All City of Los Angeles team. In August, Danielian was named most valuable player of the 5th Pan-Armenian Games in Yerevan, Armenia. Danielian led Los Angeles to a gold medal with a 49 point performance in the championship game against Sochi, Russia, with the President of Armenia, Serzh Sargsyan, in attendance.
ATHLETICS: Armenia's long-jumpers Vardan Pahlevanyan and Arsen Sargsyan, archer Melik Janoyan, and young triple-jumper Levon Aghasaryan are competing successfully to qualify for the 2012 London Olympics. To qualify for the London Olympics, Armenia's track and field athletes must meet with a normative requirement in a tournament included in the agenda of the sport's international federation.

GYMNASTICS: Artur Davtyan from Armenia will take part in the Olympic gymnastics qualification tournament, which will be held in London, from January 7 to 14. To qualify for the 2012 Summer Olympics, Davtyan will have to be among the top 25.

CHESS: Armenian grandmaster Tigran Petrosian took the 3rd place at India-hosted GM International Open Chess Championship. In the last, 11th round, Armenian grandmaster beat the tournament leader Abhijeet Gupta, to earn an equal number of points with 1-5 place holders. However, the tie break points decided the outcome against Armenian contender's victory. Another Armenian player, Zaven Andriasian took the 6th place.
Gibrahay Sports by Sevag Devletian
AGBU Ararat defeated Livadiakos Livadion 2-3 in the Cyprus Futsal 1st Division.
Homenmen defeated Lefkoniko 5-3 in the Cyprus Futsal 3rd Division.
Direct to Yerevan
You can read all the issues of 2011 on
www.gibrahayer.com
Development project overlooking Larnaca Salt Lake, by three young Armenian professionals of our community. Click here .
You can read the latest issue of Gibrahayer e-magazine and all of last year's issue here