The largest circulation Armenian e-magazine, circulates every Thursday. Est. 1999
ARMENIA SHIP ARRIVING IN
LIMASSOL PORT ON AUGUST 11
Office of the Armenian MP Vartkes Mahdessian
- The sailboat "Armenia" will be arriving at the Limassol new port at 7:00 pm on Thursday, 11 August 2011. Limassol will be the final stop of its epic world journey, which started on 28 May 2009 from Valencia, Spain. The crew consists of seven Armenians and the head of the expedition is Dr. Zori Balayan, a
renowned Armenian author, traveller and human rights activist. Its mission is to increase world awareness about the Armenian nation, once a significant seafaring people with more than 1000 ships in 24 big ports of the Kingdom of Cilicia (1080-1375), which had special ties with Lusignan Cyprus.
The ship is dedicate d to Saint Mesrob Mashdots, who "discovered" the Armenian alphabet in 405 AD and the 1700th anniversary of Christianity in Armenia (301 AD), while its arrival here coincides with the 20th anniversary of the Republic of Armenia, which became a reality after the dissolution of the Soviet Union. The ship is adorned with the 38 letters of the Armenian alphabet, the Armenian cross and the Armenian symbol of eternity.
A special welcoming ceremony will be held, followed by a cocktail reception, in the presence of Their Excellencies the President of the Republic of Cyprus Demetris Christofias and the President of the Republic of Armenia Serzh Sargsyan.
Dear subscribers,
Although we are on holiday, there are a number important community events that we wanted to share with you.
So here is another special issue.
We are also working on raising funds for our activities for 2011-2012, and we are counting on your support.
Gibrahayer e-magazine
TURKEY DESIRES TO DEPRIVE THE ARMENIANS OF EVEN THE RIGHT TO DREAM
Ara Papian - Head of the Modus Vivendi Centre - 27 July, 2011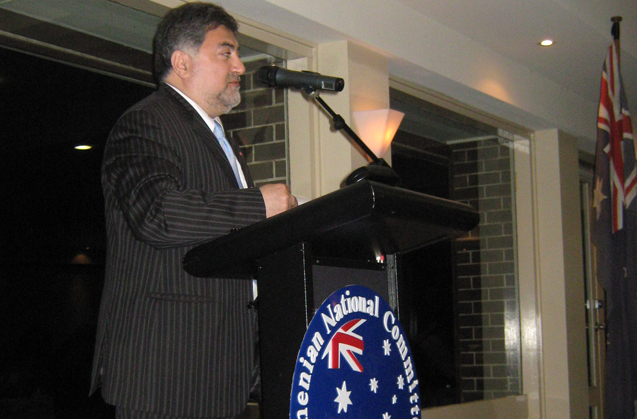 The Turks are openly speaking today of the restoration of the Ottoman Empire. Of course, they wish to do so with a different sort of packaging; however, it is essentially not a different thing. And this is not simply a case of mere discussions, but there is in fact a clear state policy that is being planned and implemented. If Lenin once referred to the Russian Empire as a "prison of peoples", then the Ottoman Empire can certainly be called an "abattoir of peoples". The discussions are about restoring that very slaughterhouse. There has been no other state in the world – at least for the past five hundred years – where people of minority ethnicities or religions have been subject to such diverse forms of discrimination, ruthless massacres, and, ultimately, unprecedented genocide, all at the level of the state and national legislation. Can you imagine what would occur if the Germans spoke of restoring the Third Reich or its influence? And we remained and are re maining silent when it comes to similar calls by the Turks, instead of protesting against it at every available political opportunity as a people and state that has been subject to genocide and national dispossession by that very empire and its successor state. Perhaps our expectation is that the Turks will repay our reticence with gratitude: a blissful naïveté, which can only be borne by one who does not know the Turks. Is it not clear enough already that the restoration of the Ottoman Empire, regardless of how such a thing would manifest itself, would imply the end of the Republic of Armenia?
A few days ago, in response to a simple question by a school student on future borders of Armenia, Serge Sargsyan gave quite a mild, very general, and, I would even say an evasive answer. What is more, he essentially said that he himself had no intention of presenting any demands to Turkey, as he considered the work of his own generation at an e nd. He did not say that, as President of the Republic of Armenia, he will do all in his power to end the illegal occupation by Turkey of the rightful territories – I repeat, those rightful territories, and not some abstract Armenian lands – of the Republic of Armenia.
This incident would probably have gone unnoticed if there were not such a clamour raised by Turkey in turn. And what is Turkey's intention in this case? I believe it is yet another attempt at receiving assurances from Armenia (that have already been once laid out in those protocols), that Armenia has no demands from Turkey, that is, yet another act of humiliating Armenia in international circles through the means of denial. Turkey's conduct today is also informed by the secret of the infamous Armenia-Turkey protocols. Many ask why would Turkey have pursued having those protocols signed if it was already known that they would not be ratified? But what kind of a question is that, if they did not serve to publicly humiliate the Armenian state? Turkey showcased to the world that the Armenians are ready to go to almost any length – to deny everything – in order to establish relations.
This as a practical matter. And as far a s the more far-reaching matters go, the intentions of Turkey are much more dangerous. The Turks desire to deprive the Armenians of even the right to dream. The Turks have deprived us of almost everything and now they wish to imprison our spirits and shackle our minds. If a nation lets go of its capacity to dream, then it is rendered into a consumer-driven marketplace. Dreaming, even dreaming of things that seem impossible, is the salt of the spirit of a nation, which preserves the nation from decay.
THE KALAYDJIAN FOUNDATION LAUNCHES
NEW "UNIVERSITY GRANTS" PROGRAMME
Kalaydjian Foundation press release: -
The Kalaydjian Foundation is pleased to announce the launch of a new programme of grants to talented students studying full-time towards undergraduate degrees at accredited universities. The programme is aimed at providing assistance to gifted students in need of financial support for their tertiary education and covers all accredited universities in Cyprus, Europe, Armenia, Russia and North America which charge for tuition.
The "University Grants" programme will allow up to five eligible applicants annually to receive €1,000 (One Thousand Euros) each per academic year for the duration of their
studies, such dura tion not to exceed 4 years. This amount will be granted to students who fulfill certain criteria including academic achievement, financial need, graduation from a Narek school and overall positive assessment. Grants will be made based on the decision of the members of the Management Committee of the Foundation and will be communicated to the applicants before the end of each calendar year.
The Kalaydjian Foundation appreciates the need for targeted support to students aiming at a university education and has therefore taken the lead in establishing this project. It is hoped that the 'University Grants' programme will allow a significant number of individuals to receive financial aid and thus continue with their tertiary education. Parallel with its "Support for Education" programme, whereby an annual grant is provided to all Narek graduates studying at private secondary schools in Cyprus, and together with the postgraduate scholarship it offers through the American University of Armenia, the Kalaydjian Foundation believes that the opportunity now exists for successful applicants to receive the level of education that is imperative for the 21st century.
The criteria for granting this aid will be stringent and will follow the general guidelines set by various other philanthropic institutions and higher education bodies. The Kalaydjian Foundation confirms that any information submitted with an application will be kept strictly confidential. Interested parties should contact the Kalaydjian Foundation on
r.kalaydjian@cytanet.com.cy
or call Mr. Hagop Kasparian on 22-429306. Applications for a university grant must be made by the 15th of October 2011.
The "University Grants" programme is in memory of Arousiak and Al ice Rafaelian in recognition of their major contribution to the Kalaydjian Foundation.
The Kalaydjian Foundation, a non-profit philanthropic organisation, was founded in 1984 by Bedros and Aram Kalaydjian. The Foundation's Grand Benefactors are the sisters Arousiak and Alice Rafaelian and Mr. Arto Matossian. More information about the Foundation can be found at
www.kalaydjianfoundation.org
GIBRAHAYER FUNDRAISER 2011
Dear readers and subscribers,

After 12 years, 700 issues, 1,570 Alerts, 2,000 Facebook posts to a growing social network of 5,500 friends, over quarter of a million visitors as well as 20,000 steady weekly subscribers later, we feel we have completed an unparallel cycle, not only for Cyprus but for any online media publication.
We feel that our online community needs to move to the next level of information sharing, but most of all into channelling our resources into combating disinformation by the enemies of our people, who have been engineering to consolidate the spoils of their loot. If you feel we can make a difference, we urge you to empower our effort financially, and provide us with the means to put our knowledge into action, by taking this platform to a level that will bring tangible results in promoting Armenian-related issues not only to our communities, but further beyond.
We are counting on your undivid ed and whole-hearted support. A representative of our publication will be contacting you shortly. In the meantime if you are ready to make your contribution, don't wait for us to contact you. Please reply to this e-mail and let us know with the amount by which you want to assist our publication.
Thanking you in advance for your assistance.
Gibrahayer e-magazine - 13 July 2011

You can also remit your donation into the Bank account below:
Bank Name: Marfin Popular Bank Public Company Ltd
Account Number: 101-1100-3421
(for contributions in Cyprus)
International subscribers of Gibrahayer e-magazine
can make contributions to the following USD Account:
Bank Name: Marfin Popular Bank Public Company Ltd,
Bank Address: Strovolos Industrial Area sub-Branch,
Stavrou Avenue 96-I, 2034 Nicosia – Cyprus.
A/C Name:Aynedjian Simon. A/C No: 101-33-002517(USD)
IBAN (International Bank Account Number)
CY41 0030 0101 0000 0101 3300 2517
Laiki Bank Swift Code No: - BIC: LIKICY2N
Gibrahayer Calendar Events
10 -17 August –

GEM (AYF)Panagoum at Troodos Campsite. All between the ages of 8 to 23 are welcome. Transportation by bus will be available from Homenetmen -AYMA in Nicosia to our campsite on Wednesday 10 August at 9 am. The return on Wednesday 17 August in the afternoon should be arranged by parents. Price for one (1) camper per family is 120 Euros/camper; two (2) campers per family is 105 Euros/camper; three (3) campers per family is 90 Euros/camper. For details and to sign up please contact: Unger Sevag Gurunlian in Nicosia: 99-202923, Talin Babikian-Angelidou in Larnaca on 96-577847, Unger Sarhad Demirdjian in Limassol on 96-328659.

Friday 23 September

- Kravadz or.

Saturday October 1 at 8:30 pm -

Kravadz or by Larnaca Armenian Club.

Sunday 23 October at 1:00 pm -

Autumn Fund-Raising Luncheon organised by The Armenian Relief Society (HOM) Sosse Cyprus Chapter at Homenetmen - AYMA.

Sunday 13th November

– Kravadz or.

Saturday 20 November

– Kravadz or.

Sunday 27 November or Sunday 4 December at 4:00 pm

(final date to be announced shortly) – HOM (Armenian Relief Society) Cyprus Sosse Chapter's Christmas Fund Raiser for humanitarian projects in Armenia and Nagorno-Karabakh.

December 2011 -

HOM (Armenian Relief Society) Cyprus Sosse Chapter's Street Bazaar for humanitarian projects in Armenia and Nagorno-Karabakh. Details to follow.

Sunday 25 December at 9:00

– Homenetmen - AYMA Christmas Ball at The Cyprus Hilton.
Barev cez paron Simon diteci YERKIR MEDIAi patrastac haxordumy Giprosi hay hamynqi masin. Hiacac em vor aydpisi erandov u nvirumov hamaynqy pahum e hajkakanutyuny, krtum pokriknerin, xnamum cererin, i mi berum hamaynki patmutyuny,vorpeszi heto vorpes harust jarangutyun poxanci serundnerin. Shnorhavorum em ajs haxordashari aritov Giprosi mer hajrenakicnerin.
Hargankneron HAJASTANI HANRAYIN RADIO - Hamaspiur Grigorian.
Hello It's writing you from Armenia, Yerevan. My name is Lilit Tshughuryan. I am writing this letter after watching the program about Cyprus Armenians on Yerkir Media TV Channel. It was very interesting. I am very happy to see the existance of Nareg School, Armenian Cultural Center, and of course the interest of Cypriot people and also the interest of the new generation towards Armenian language. I sincerely wish you all the best. Waiting for new programs on TV about Cyprus and Armenians.
All the best.
Lilit Tshughuryan
Founder and Director Akademix Team Consulting & Training Company
www.akademix.am
UNIVERSITY OF CYPRUS ARMENIAN LANGUAGE COURSES
The Office of the Armenian Representative Vartkes Mahdessian informs us that the part-time Armenian language courses, which began last year at the University of Cyprus, were completed with great success.
Beginner and advanced level classes for the new academic year will re-commence in September 2011.
For enrollment and more information kindly contact the Office of the Armenian Representative on 22-454540 until 14th September 2011.
NATASHA TAVOUKDJIAN'S
GES HAY (IN L.A.) available on DVD
GES HAY (IN L.A.)
is now available on DVD. For EUR 20 plus shipping (for abroad) you can own the DVD which contains one disc for the play and another with pictures from the practice a day before the actual play. As you can see from the above CD image, the DVD is as unique as the play. A perfect gift to your loved ones!
For your orders, please contact Shoushig Bakalian on (00357) 99667828 or any committee member of Hamazkayin Cultural and Educational Association Cyprus Oshagan Chapter.
New development project overlooking Larnaca Salt Lake, by three young Armenian professionals of our community. Click
here
Ani Restaurant - Amathountos 96A, Ay.Tykhonas-(opposite Amathus Beach Hotel)
Telephone: 00357 - 25-311811 email:
anilimassol@gmail.com
Limassol - Cyprus